Families enjoying Thomas the Tank Engine event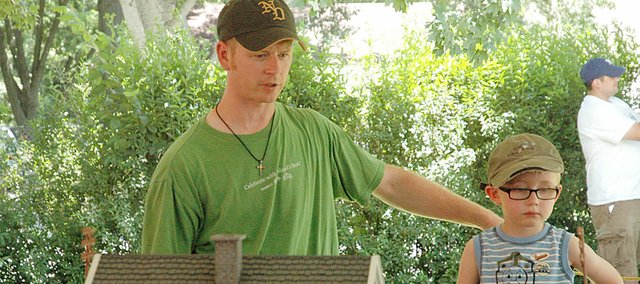 For the Toland family, 4-year-old Joseph's love for Thomas the Tank Engine is one of their top priorities.
So the family — Joseph, 2-year-old sister Charlotte, and his parents, David and Ryanne — traveled Friday from Bonner Springs to Baldwin City for the ninth annual A Day Out with Thomas event at Midland Depot.
"We came two years ago when he was 2," David Toland said of his son. "He loves Thomas. He watches him religiously. Most of my paychecks go toward Thomas stuff. I work, not only to support my family with food and shelter, but also Thomas merchandise. Basically, he likes Thomas."
It wasn't just Joseph's love of the blue PBS cartoon character that brought them to Baldwin City. Trains, in general, grab his attention.
"He loves trains," Toland said. "His grandfather works for BNSF and he promotes trains to us. We like to go anywhere there are trains."
A 25-minute train ride was one of the many activities the Tolands participated in Friday. They also enjoyed the Imagination Station, which included the toy trains, Legos and other children's activities.
Another family drawn by Thomas' allure were the Messicks — parents Jennifer and Jon and sons, Brenden, 4, and Nicolas, 2 — from Kansas City, Mo.
"They are enjoying their first trip to see Thomas," Jennifer Messick said. "Nicolas loved the animals and the train ride. Brenden's favorite part was seeing Thomas. They are both big Thomas fans. We have lots of Thomas stuff at home."
A Day Out With Thomas continues next weekend, June 11-13. The 25-minute train ride costs $18 for anyone over 2 years of age. Tickets are still available at ticketweb.com, said Linda Ballinger, event co-chair.