Weiss improves times, places to lead
BHS

boys at state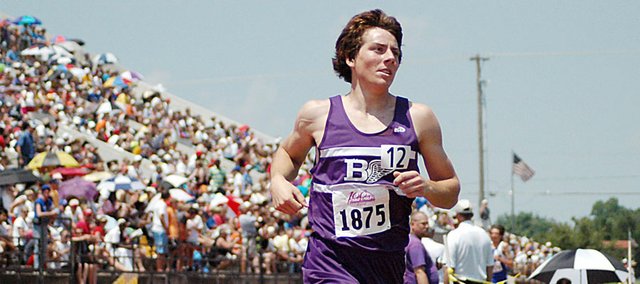 Photo Gallery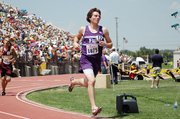 Baldwin High boys at state track
Baldwin High School's boys' track and field team competed at the state meet May 28-29 in Wichita. The Bulldogs won medals in four events over the weekend.
WICHITA — Tony Weiss hit the track running … fast Friday morning at the state track and field meet.
He continued running fast through Saturday afternoon. In fact, he ran his three fastest times in his trio of races during the weekend.
"I ran my best times ever in all three of my races," Weiss said. "I was really happy about that. It was fun. I had a great time at the meet."
Weiss scored in his two individual races and helped one of Baldwin High School boys' team's two scoring relays.
"Tony Weiss had a huge meet," coach Mike Spielman said. "He got three medals in his three races and he ran his three fastest times ever. He ran a PR on his third race of the weekend. He has set himself up to be the guy we rely on to get us points."
As a team, Baldwin scored 14 team points on the boys' side. That was good enough for 14th place.
"I was very happy with our meet," Spielman said. "We did a great job of just getting in there and competing in all of the events we had going. They did a great job and got themselves some medals to show for it."
Weiss, a BHS junior, didn't waste much time in starting his most successful state track meet. Early Friday morning, he ran his fastest time ever in the 3,200-meter run and earned his best place ever.
Weiss' time of 9:45.18 broke his former top time by more than 10 seconds. It was also good enough for a third-place finish, as he edged out De Soto's Angel Vasquez, who ran 9:46.33. Weiss ran 9:57.93 last year to place fifth in the race.
"I knew who I was going to have to stay with for the majority of the race," Weiss said. "I just packed up with them for the first mile and then we started moving up during the second mile."
"I'm really excited," he said. "It was really fun. I PRed by quite a bit. I think it was about 13 seconds. It was good to break the 10-minute mark by quite a bit, too. I'm really happy about that."
BHS sophomore Tosh Mihesuah also competed in the 3,200 run. He finished 14th as he ran 10:29.09. Both Bulldogs almost missed the race, due to some confusion from meet officials.
"It was a little confusing at the start, because they told us 5A and 6A girls were going after the 4A girls," Weiss said. "So Tosh and I are sitting in the bleachers when they announced we were the next race on the track. So all of a sudden, we fly down here to get ready. We are putting our spikes on while other guys are on the track and they're yelling at us to get on the track. It was very confusing."
On Saturday, Weiss ran the first leg of the 3,200-meter relay. He helped the Bulldogs finish fifth in a time of 8:14.92. The relay members were Weiss, Mihesuah, junior Carson Barnes and sophomore Brian Wright.
"That was the first time I've run an 800 all season," Barnes said. "I didn't exactly know what was going to happen. I just tried to hit my pace and it turned out all right."
To cap off the meet, Weiss came back in the 1,600-meter run early Saturday afternoon. He improved upon his 12th place finish in 2009 by six spots. Weiss ran 4:32.31 to finish sixth in the race, where the first two runners ran 4:23.
"The mile was my last one and it was tough," Weiss said. "It hurt a lot, but it's worth it. It's nice to have some great competition. Even if you're not at the front, the pace is being pushed, so everyone is running fast times."
Baldwin's other scoring event at the state meet was the 1,600-meter relay. The Bulldogs finished the meet with a fifth-place finish in the final race of the day. They ran 3:27.84 in the race.
"We had good handoffs and everybody ran their hardest," Barnes said. "We did the best we could, so we can't ask for more than that."
The relay members were sophomore Asher Hannon, Barnes, Wright and junior Josh Hoffman. Sophomore Dayshawn Berndt was the anchor on the relay until a leg injury at the regional meet ended his season.
"We were competitive," Hoffman said. "I thought we competed well both days in our race. We had a big injury to come back from and we were able to do that pretty well."
Wright was the fill in for Berndt, a task he knew would be difficult.
"It's tough to replace our fastest runner, but I thought I did a decent job to help the team," Wright said. "I'm happy to finish fifth. It's a nice feeling to win a relay medal."
At the end of the long two-day meet, the BHS boys' coach was happy with his team's performances.
"Both relays medaled for us," Spielman said. "The 4x800 ran its fastest time of the year. The 4x400 team ran well without Dayshawn, which is very tough to do. We are building on the things we have coming in the future. We did all of the things we needed to do to set us up for next year."