Thomas the Tank Engine event returns to Baldwin City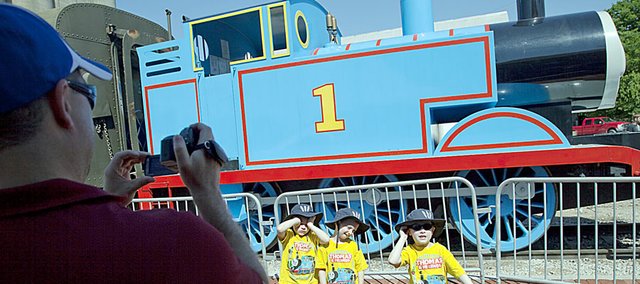 There will be the standard fare for Thomas the Tank Engine's two-weekend stay in Baldwin City that starts Friday. That includes plenty of people, possibly as many as 20,000.
"I think last year we had between 16,000 and 17,000 people ride the train," said Linda Ballinger, event co-chair. "Right now we're a little bit ahead with ticket sales. I think the economy is keeping people close to home.
"We've got seven trains sold out so far," said Ballinger. "We're looking forward to having a lot of people out and we'll hope the weather holds out. But we'll be here rain or shine."
Thomas the Tank has been coming to Baldwin City every summer for the last nine years. The engine is a life-sized replica of the cartoon character on PBS. Children can ride in a Midland Railway passenger car, which is made to look like Thomas is pulling it. The 25-minute ride costs $18 for anyone over 2 years of age. Tickets are still available and the easiest way to obtain them is by going to www.ticketweb.com, Ballinger said.
"The cartoon is geared for ages 2 to 6, but I know quite a few 10-year-olds are still into it," she said.
While Thomas is the main event every year, there are plenty of other activities for the youngsters in the Midland Depot area. There are storytellers, temporary tattoos, the imagination station, plenty of food vendors and, of course, the merchandise tent.
"You don't have to ride Thomas to enjoy it out here," said Ballinger. "We've got about two dozen new items in the merchandise tent."
The area around the depot will open at 8:30 a.m., with the first ride starting at 9 a.m. Friday, Saturday and Sunday. Everything is usually wrapped up by 6:30 p.m.
"We stay until everyone is gone," she said.
The same times, etc., will be in place for Thomas' second weekend, June 11-13. The depot is on the west side of Baldwin City, but people are encouraged to park at Baldwin High School and take a shuttle bus to the site. However, people need to be aware that construction at BHS has taken about half of the parking spots.
"Parking is going to be at a premium in Baldwin City because of all that's going on," said Ballinger, noting that the annual city-wide garage sale and Battle of Black Jack events are going on this weekend. "We'll be running buses back and forth more often."
She'll also be overseeing the mass of volunteers it takes to put the show on every year. It serves as a fundraiser for many local organizations and groups at BHS.
"It takes 120 to 130 volunteers each day to make this run," said Ballinger. "That's a lot of people to make this work."
That doesn't include the Midland Railway's 25 people to run the actual train.
"I don't think people realize how many people it takes to put this on," she said.