State track champions
Baldwin High girls, Zuzzio win first-ever title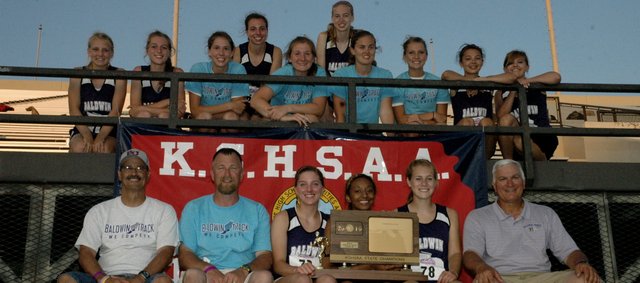 Photo Gallery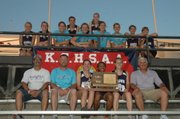 Baldwin High girls at state track
Baldwin High School's girls' track and field program competed at the state meet in Wichita on the weekend of May 28-29. The Bulldogs medaled in eight events, which included two state championship relays.
Photo Gallery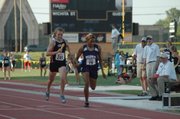 BHS girls 1,600-meter relay wins state
Baldwin High School's girls' 1,600-meter relay team won the Class 4A state race in Wichita. The Bulldogs ran 4:03.11 in the prelims to set a school record. In the finals, the Bulldogs ran 4:04.96 to edge out Colby for the state title.
Photo Gallery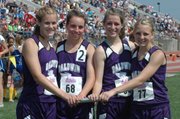 BHS girls 3,200-meter relay takes state
Baldwin High School's girls' 3,200-meter relay team won the Class 4A state championship and set a school record with its 9:39.14 on Saturday morning.
WICHITA — Ted Zuzzio has been coaching Baldwin High School track and field twice as many years as many of his athletes have been alive.
To be exact, Zuzzio just completed his 34th year at the helm. It was arguably his most accomplished season as the Bulldogs' coach, as his girls' team brought home the first-ever Class 4A girls' state championship Saturday.
"It was my first as a coach and on the 100th year, so that was pretty cool," Zuzzio said.
His first state track championship fell on a special year for the Kansas State High School Activities Association, which celebrated the 100th year of high school track and field last weekend.
"This is pretty special," he said Saturday. "We've got a special group of girls that worked hard for this. It's just very exciting."
It wasn't as if Zuzzio's previous 33 years as the BHS girls' track coach were unsuccessful. He coached the Bulldogs to a pair of runner-up finishes in 1995 and 1996 and a third-place trophy in 2007.
His first state track title might have come in 1995, if not for a one-year experimental rule. In the field events, the tiebreaker was number of attempts, instead of the current method, which is number of misses at the previous height.
In 1995, Baldwin's Audrey Millstein finished third in the high jump, because she started one height lower than the second-place finisher. In the end, Millstein and the other competitor tied at their finishing height, but Millstein placed third because her starting height was 4 feet, 10 inches, while the other girl started at 5-0.
"I didn't sleep for five days over that," Zuzzio said. "It just wasn't right. We should have won the state championship that year."
This year's team looked poised to make a run at a state championship, but hit a couple of road bumps. Juniors Heather Karlin and Lyndsey Lober were lost to injury. Karlin had a medical situation occur during practice, before Lober injured her knee during practice. Both were state medalists in 2009, but their 2010 seasons were finished.
"We've had some injuries this year, so that makes this even sweeter that we were able to accomplish this," Zuzzio said. "I wish the others could have been with us."
Despite those setbacks, Zuzzio has his prized first-place trophy. Baldwin's state title ended Concordia's run of five straight championships.
"We got third place my freshman year," Twombly said. "We thought that was exciting, but tonight we knocked Concordia off the top as reigning champs."
This year's championship run didn't come down to a rule change. Instead, it was decided by 0.03 second in the last race of the day.
In the 1,600-meter relay, Baldwin and Colby battled for the top spot all four laps. On the final leg, BHS senior JaBryanna Wellington edged out Colby's Emilea Finley. The Bulldogs' time was 4:04.96, just ahead of Colby's 4:04.99.
"That was a great finish," Zuzzio said. "It doesn't get any better than that — winning the mile relay at the end. Those four girls put together a very special race at the end of a hot day."
The other three Bulldogs on the relay were senior Connor Twombly, sophomore Elizabeth Sigvaldson and freshman Kaitlyn Barnes. Baldwin narrowly beat Colby in the preliminary race on Friday. BHS won that qualifying race by 0.27 second.
Saturday's relay victory scored 10 points for the Bulldogs, which was enough to put them two points ahead of Kansas City Sumner for the team title. A second-place finish in the 1,600 relay would have resulted in a shared team title, but a third-or-worse finish would have resulted in a second-, third- or fourth-place team finish.
"The coaches put a lot of pressure on us before the race, telling us that if we lost it would be a tie or worse, but if we won the race, we won the whole thing," Twombly said. "I don't know if it could have been more exciting."
Twombly, Sigvaldson and Barnes were three of the girls who have won state championships in cross country. Most members of the girls' track team were without a state title before Saturday.
"We finally got it," Wellington said. "It's worth four years of waiting. This makes it so much better to leave on, because we are leaving on a good note. Now we have something to carry with us and remember from high school."
Some of the Bulldogs immediately started celebrating the team title after the 1,600 relay. Along with their coach, it was their first-ever championship, too.
"This is very exciting," junior Ramie Burkhart said. "In basketball, we were close to getting to state this year, but not in volleyball. So, it's exciting to do so well as a team. Everybody contributed to this title."
Although Sigvaldson has won a pair of state championships with the cross country team, she was ecstatic Saturday evening.
"I'm so happy, I'm crying right now," she said. "It just feels so amazing. I've never been so happy."
Her fellow cross country teammates were also excited Saturday.
"I don't think there is anything else I could have asked for," Barnes said of winning two state titles during her freshman year. "I didn't really know what to expect this year with track, but now that's it's here, it feels so good."
For Twombly, it was a surreal moment. She was a freshman on the 2007 squad that finished third. She also won three state titles in cross country. However, the track team championship was a bit distinct for her.
"It's a lot different than cross country," she said. "I don't know why exactly, but it's different. I'm enjoying this more, because I ran a lot better during track than I ran during cross country this fall."
Although Zuzzio and his athletes will share his first state track championship, he was more thrilled for them than himself Saturday evening.
"I can't be happier for the kids," Zuzzio said. "They all stepped up. It was an entire track-team effort. It was very exciting and I'm proud to be a part of it."