School record falls as 3,200 relay takes gold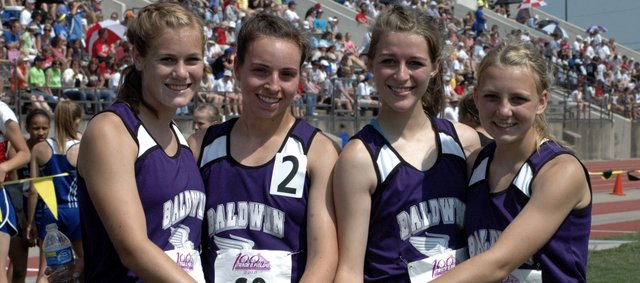 Photo Gallery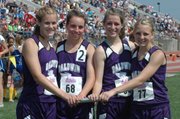 BHS girls 3,200-meter relay takes state
Baldwin High School's girls' 3,200-meter relay team won the Class 4A state championship and set a school record with its 9:39.14 on Saturday morning.
WICHITA — Carol Whaley was more mentally prepared for this year's state meet than she was a year ago as a freshman.
Prior to last year's 3,200-meter relay, Whaley's nerves were at an all-time high. She went from being a junior varsity runner early in the season to a runner on one of the top relay teams in Class 4A.
"It's a lot less nerve-racking this year," Whaley said. "When I got the baton last year, I was crying. This year, I knew what I was doing more and knew what to expect."
Whaley helped the Bulldogs finish runner-up to Wamego in the 2009 event. Losing a pair of seniors from a second-place team can be tough for the squad next year, unless you're Baldwin. Coach Mike Spielman, who produces top-notch distance runners every year, found two girls ready for the challenge this spring.
One was the alternate in 2009. She ran on the 2009 relay, before being replaced by Whaley. She also ran on the 1,600-meter relay that finished second. During her freshman campaign, Elizabeth Sigvaldson made a name for herself by peaking at the final meet of the season in cross country and track.
"You're a gamer," senior Connor Twombly said to Sigvaldson Saturday. "You always come ready to run at state."
The final piece to the puzzle was a standout freshman. She won the 800-meter run at the league meet as an eighth-grader. She also holds the Baldwin Junior High School 800 record at 2:22.8. Kaitlyn Barnes was the perfect anchor to fill the void.
"If you have a team that gets along great outside of track, it helps when you do step on the track," Barnes said. "We enjoy running with each other. We can read each other and feed off each other's energy."
BHS girls' coach Ted Zuzzio found the right combination and order with Barnes, Sigvaldson, Twombly and Whaley to make a successful relay. Baldwin entered this year's state meet with the second fastest time in 4A, just behind Holton's regional time of 9:47.
"They had a faster time than we did, which was surprising because I hadn't seen them on any list all season," Twombly said. "We were nervous before the race."
On Saturday morning, previous times were thrown out the window. The only race or time that mattered was the one about to be run at Cessna Stadium between Baldwin and 15 other schools, including four Frontier League teams.
De Soto led the first two legs of the relay as its two fastest runners ran those legs. Baldwin followed the Wildcats until the third leg. Then Whaley passed the Wildcats and left them, and every other team, behind her.
Barnes completed the relay with her personal-best split of 2:20. She crossed the line in a time of 9:39.14, six seconds ahead of second-place Holton.
"They ran 10 seconds faster than they've run all year," Zuzzio said of the 3,200 relay. "I mean, what can you say? They're a special group of girls."
Seconds after the race, Sigvaldson yelled at her freshman teammate, "I love you, Kaitlyn." After the race, she was still ecstatic.
"This is the best feeling in the world." Sigvaldson said. "I'm so excited."
"I always knew we could do it," Twombly said. "I know these girls are faster than they think. Our time wasn't really a surprise to me, but beating everyone else who was in the race was going to be tough."
The winning time broke the school record by two seconds. The former BHS record was set in 2008, when the Bulldogs also won the state title. Twombly also ran on that relay.
"Being a senior, it makes it so much better," she said. "I was just learning it as a sophomore. I was just getting used to being at state. This year I knew what to do to achieve our goal. It feels so good."
All four girls on the relay stated that being on the state championship cross country team has helped them bond as teammates in track, too.
"There is a special bond between all of us," Sigvaldson said. "It makes it more special to win together. We know each other really well and we spend a lot of time outside of track and school together. We are all willing to work hard for each other."