Bulldogs earn medals in six events at state meet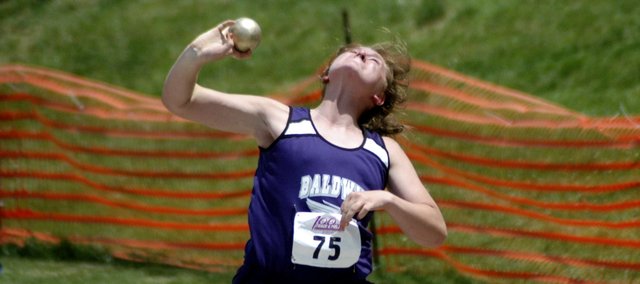 Photo Gallery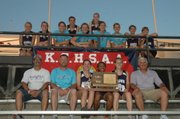 Baldwin High girls at state track
Baldwin High School's girls' track and field program competed at the state meet in Wichita on the weekend of May 28-29. The Bulldogs medaled in eight events, which included two state championship relays.
WICHITA — Katie Kehl may have broken her own shot put record once again, but Ramie Burkhart's hurdle race might have been the most important event of the state track and field meet for the Baldwin High School girls' team.
Heading into the 300-meter hurdles, the Bulldogs held a one-point lead over Kansas City Sumner Academy and a 1.5-point lead over El Dorado. The Bulldogs had two in the finals of the race, but the event favorite was Sumner's Tyler Sloan, who was the defending state champion.
Baldwin's juniors Myranda Behrens and Burkhart entered the finals seeded No. 7 and 8, which placed them in the outside and inside lanes. Behrens took lane eight, placing her ahead of everyone on the stagger at the beginning of the race. Burkhart was in lane one, looking at all seven competitors.
"It's harder than having a middle lane, but it makes you want to chase everybody down and catch them," Burkhart said of lane one. "It's better than being in lane eight, where Myranda was stuck. That's hard because you can't see anyone coming behind you."
Down the home stretch, Burkhart sped down lane one past several competitors. She finished third in the race in a time of 47.11.
"It feels amazing," Burkhart said after collecting her medal. "I knew those two girls were running 45s and everyone else was running 47s, so I knew I had a chance to take third. I put my mind to it and I got it."
On the outside, Behrens tried to hold her spot during the final 100 meters. She fought through a foot injury that she's battled for the past few weeks and that even kept her out of practice for a couple of weeks. Behrens finished seventh in the race, running 47.87.
"It feels good to get some medals at state after two years of disappointment," Behrens said. "It's all in the mind. If you think you can do it, you can and I did, along with Ramie."
Both girls ran slightly faster times during the preliminary races on Friday morning. Burkhart ran 47.27, while Behrens ran 47.3 on Friday. Those times were personal best for both girls. On Saturday both were more concerned with earning team points.
"We knew that we needed to place, because we are in the running for first place as a team," Burkhart said. "We both did it for the team."
The seven team points earned in the 300 hurdles proved important as the BHS girls' team won the team championship over Sumner by two points.
"We came out of nowhere in lanes one and eight to finish third and seventh," coach Ted Zuzzio said. "Each point counted this weekend. We only won by two points. We scratched for every point we could get."
The Bulldogs medaled in five other events. The first event to earn team points was the shot put, where another school record fell this season. Kehl, a BHS freshman, threw 41 feet, 5.5 inches on her first attempt in the finals.
That throw moved her into second place, but Sumner's Stephanie Nelson passed Kehl on her last attempt. In the end, Kehl finished third, also behind Ottawa's Kearsten Peoples, who improved her state meet record at 51-10.75.
"It feels great to place third," Kehl said. "I'm just a freshman. I wanted to finish second, but third is all right with me. The other girl is a senior. I give kudos to her, because she handled the pressure well and stepped up and threw well on her last attempt."
Kehl set the school record at the Baldwin Invitational on April 1. She improved her mark to 40-9 at the Redbud Classic on May 7.
"I PRed and that's what I came here to do," Kehl said. "I came here to PR and do my best. I did both today. So I'm really happy."
Kehl came back Saturday morning with junior Allison Howard in the discus. Kehl's third throw of 127-5 would be her best of the day. It was good enough for a runner-up finish behind Peoples, who broke event records in both events.
"I'm very happy I got second place," Kehl said. "I threw OK. I didn't get a PR like I wanted to, but I threw all right. I am really happy that we scored a lot of team points. We are the first to score for the team, so we helped get the team started off today."
Howard placed fourth in the event for the second straight year with her throw of 122-11 on her final attempt. Howard has medaled in the discus all three years at BHS.
"It feels good to medal all three years," Howard said. "I probably should have warmed up more. I might have thrown farther if I did. I threw better this year than I did last year, so I don't think throwing early in the morning affected me at all. I'm happy with my day."
The Bulldogs' coach was thrilled Saturday after the conclusion of the field events.
"Allison and Katie stepped up big for us," Zuzzio said. "I mean, wow! They competed and threw well enough to place high and earn medals."
Baldwin's other medaling events were the 400-meter dash, 400-meter relay and the 800-meter run. Senior JaBryanna Wellington placed fifth in the 400 dash with a time of 59.45.
Wellington also anchored the 400 relay to a fifth-place finish. The relay squad's time was 50.76. The other relay members were junior Sammi Meisenheimer, Behrens and Burkhart.
"We were about 0.16 seconds off of the school record," Burkhart said of the 400 relay. "We were a little bummed about that, but we improved from placing eighth last year. Every point we can get for the team helps."
The final scoring event for Baldwin was the 800. Freshman Kaitlyn Barnes ran 2:24.01 to place sixth.
"We just had a 'wow' meet," Zuzzio said. "I just feel so happy for all of the kids. They are a special group. You talk about wanting to go out and do things. They went out and accomplished it together."