Neighbors: Lee Hanson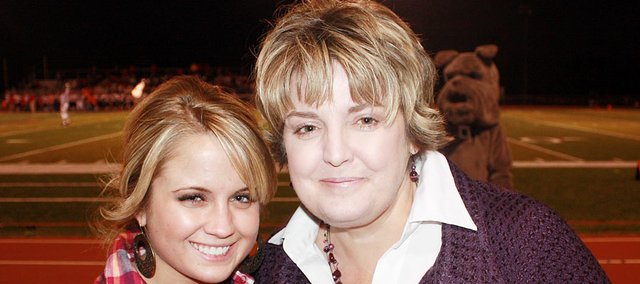 Name: Lee A. Hanson
Occupation: Educator
Family: John (husband), Danielle (daughter), Jordan (son), Josh (son)
Place of Birth: Valley Forge, Penn.
Q. How long have you lived in Baldwin City and what brought you here?
A. We have lived in this wonderful community approximately 17 years. We moved to Baldwin City after my good friend Mary Moore moved back and encouraged our family to follow. John and I are both from smaller communities and it seemed like a great idea to raise our children in one as well.
Q. What's the biggest risk you've ever taken?
A. When John and I moved to Lawrence with our small children to begin his new career. I was nervous in that I did not have a job and wasn't sure how it would work out. In addition, having both been raised in small communities, Lawrence was a little intimidating, but exciting at the same time.

Q. What's the best piece of advice you've ever been given?
A. Treat others as you would want them to treat you.

Q. What two things would you want people to know about you?
A. First, I would want them to know that my faith, family, friends and students are very important to me. Next, I would want them to know that I love watching both KU football and Baldwin Bulldog wrestling. However, John and I plan to attend many Baker wrestling tournaments this upcoming year as well. Go Wildcats!
Q. What did you want to be when you grew up?
A. A teacher. I can remember preparing a small schoolroom in our backyard playhouse in which I scheduled classroom sessions with all the neighborhood children.

Q. What's the best way for you to get away from it all?
A. I love visiting John's parents' farm located north of Randolph. It's quiet and peaceful.

Q. What's your ideal vacation spot?
A. While there are many places I would like to visit that could be potential ideal vacation spots, of those I have visited, San Antonio, Texas, is by far my favorite.

Favorite things
Song: Love Me, by Collin Raye (this song reminds me of my grandmother and grandfather who have both passed away).

Movie: Titanic, created by James Cameron.
Color: A pastel peach color.
Food: Homemade jam and/or jelly to spread on my morning toast.