Mock's 'different' Camaro catches Hot Rod Magazine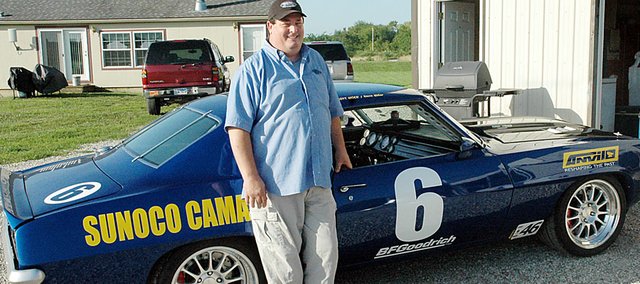 Yes, that's Scott Mock's 1969 Camaro in this month's issue of Hot Rod Magazine. It's a dream come true for the Vinland resident.
"Hot Rod is kind of the premier magazine for gear heads," said Mock. "Everyone wants to be a magazine car. It's kind of like a model getting in Playboy or Vogue or one of those magazines."
His car has been featured in other magazines before, but this was the big time. Only the best make it to Hot Rod. What separated Mock's car from others?
"I wanted a Camaro that was different from all the others at the car shows," he said. "So I built an old race-type car with a modern flair. This is the third Camaro I've rebuilt.
"I built this one after reading Mark Donohue's book, 'The Unfair Advantage.' I became an instant fan," said Mock. "Mark was one of the first race car drivers who was also an engineer. So I wanted a tribute to him and the 1969 Camaro race car he and Roger Penske made so famous."
Mock basically built the car from the ground up. He took a rusted-out old 1969 Camaro he got from Rick Sells of Lawrence. Mock, who has owned and operated Chubby's Welding and Machine since 1984, replaced every sheet metal panel of the car, except the roof.
He followed Donohue's recipe, putting in a 2006 Pontiac GTO L52 motor that roars with 400 horsepower. It's got a six-speed transmission, big 14-inch racing brakes, custom wheels, a Ford rear end and a 2008 Corvette front suspension.
He started the project in October of 2007 and it was finished by June of 2008, just in time for its first car-show appearance at Baldwin City's Planes, Trains and Automobiles event.
"All the paint and body work was done by my good friend Brian Kellison of Lawrence and the stickers were made by Todd Andregg of Lawrence," said Mock. "We have won a few car show awards, but the award I am the most proud of is the 2009 Good Guys Auto X Street Challenge winner, which got us an invite to the biggest car show in the world, the Las Vegas SEMA Show 2009 and the OPTIMA Balters Ultimate Street Car Challenge."
That's where the car was pitted against 56 of the top hot rods in America. Mock's car placed 20th and caught the eye of Hot Rod Magazine.
He's learned a lot about rebuilding cars along the way and will start another project on a Nova for his wife soon. That one won't be the hot rod the Camaro is and he's also learned a thing or two about selling them.
"I bought me a Camaro and fixed it up and I had a lot of people ask to buy it, although I didn't really want to sell it," said Mock. "I put a price tag on it and they bought it. They sold it on eBay for $16,000 more than I sold it for. I built another one and sold it.
"Then I wanted to build another one just for me," he said. "This one draws a crowd because it's different and everyone loves it."