Krysztof girls are forever for 4-H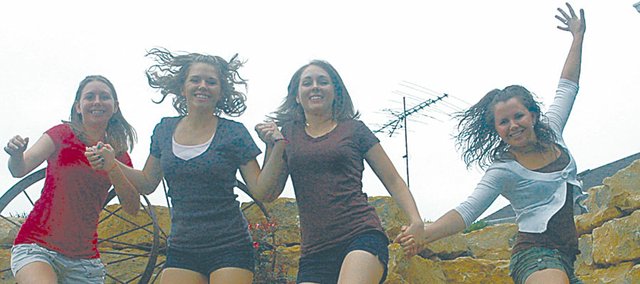 For the first time in 14 years, the Krysztof family won't have an animal entry in the upcoming Douglas County Fair.
In 1996, Katie and Emily Krysztof entered the bucket calf show at the young ages of 9 and 7. Now their youngest sister, Michaela, is the only sibling remaining in the Palmyra 4-H Club. In her second-to-last year, Michaela won't be entering any steers in the beef show.
"It's going to be a lot different," Michaela said. "Since I don't have cattle, I'm actually going to be working two or three days of the fair. I'll be up there at night and on my two days off. I've got to do my cooking, which is my big thing. I'm excited and it will be fun."
Her sisters agreed that the 2010 Douglas County Fair will be different without cows.
"It's going to be weird this year, because we won't have an animal at the fair," Brianna said. "Last year was my last year showing and Michaela hasn't showed for a couple of years. It's weird to think we won't have an animal, because we used to spend the entire days of the fair at the barn."
In past years, once the fair began, the Krysztofs and many other families would bring their cattle into the community building at the fairgrounds in Lawrence. They would remain there for the week, spending more than a dozen hours a day in the building.
"There will be a little less stress to this fair without having an animal at this fair," said Lori, the mother of the four girls. "I was always concerned that I should be up there to make sure things are going OK.
"It's like going to the sporting events now," she said. "We can just watch it now and not worry about our kids. We can enjoy what other kids are doing. I think that's going to be the positive or fun part of this year's fair — helping other kids."
Diverse family
The beef show is just one of the many contests the Krysztof family has entered during its 14 years at the fair. Another one of their staples has been the 4-H foods.
Each of the four daughters would bake four or five entries every year. Those would range from cookies to pie to cakes.
"The cooking was always done at the last minute," Katie said. "With the four of us making four or five different things, it was crazy. We had to do them the day of or day before, so we'd have around 20 cooking projects going on at our house."
Four girls and one kitchen made for some wild times and late nights before the fair.
"It was really nice because when some people were cooking, other girls were washing dishes, prepping pans for the next things or looking up recipes," Lori said. "Most of it wasn't too chaotic. We had to make sure everything was labeled and we got it up to the fair. It was never a question of whether or not they could do it, because I knew they could."
When they weren't battling a busy kitchen, the Krysztofs also had to deal with power outages once.
"The electricity went off one year," Lori said. "We had the last thing in the oven and it was cookies. We just left the door shut and left them in there an extra five or 10 minutes. I think we got a blue ribbon on them. I remember one of the girls telling the judge what happened."
Foods and the beef show weren't the only contests tried by the four sisters. Their list also includes sewing, horticulture, woodworking, paint a pot, electricity, photography and scrapbooking. It was those projects that taught all four of them a variety of skills they wouldn't have learned without 4-H.
"If we weren't in 4-H and didn't have a deadline, I can't say when we would have tried some of these things," Emily said. "If dad had told us he'll teach us some woodworking, I don't know when we would have made time for it. But because we were in 4-H and we had a deadline, it made us do a lot more. We would enroll in our projects in September, but then July would roll around and then you remember you wanted to learn that skill."
Learning life skills
Whether it was woodworking or cooking, a decade of 4-H has taught each of the Krysztof children a variety of skills that are useful in everyday life. According to them, that might be the most rewarding part of participating in 4-H.
"Any kid can do 4-H," Katie said. "It's not just livestock or cooking. Now, I think they have Legos. I think so many people are under the misconception that 4-H is for farm kids. Anybody can do 4-H, because there are so many projects you can do.
"It helps build so many life skills, like public speaking," she said. "You have to do project talk and learn how to run meetings. It also taught us to learn how to keep track of record books and manage money. There are so many opportunities, like going on trips and camps."
All of the sisters except Michaela are in college or have graduated from college. They all three said the skills used in 4-H have come in handy since they left the Palmyra 4-H club.
Katie said her friends were surprised that she knew how to cook. When she told them she learned in 4-H, they teased her. However, it was those skills learned early in life that helped Emily with her roommates.
"Even with things like woodworking, we learned many skills," Emily said. "I lived in a house with all girls, so we had to hang everything on our walls and fix stuff. Woodworking taught me how to hammer a nail, which comes in handy."
Several of the other life skills learned through 4-H include public speaking, community service and money responsibility. All three of those are learned early in most 4-H careers.
"You also learn responsibility," Emily said. "We let 7-year-olds vote on how we're spending money. That's a great opportunity for a 7-year-old, although they might not understand it all, but then by the time you're in junior high you've grasped the concept that most kids haven't grasped of how to have a budget. If you're the treasurer, you literally have a checkbook. At the time, it didn't seem like such a big deal, but looking back, that was a lot of responsibility."
It's that responsibility that also helped the Krysztofs retain the money they earned at the county fair. Some awards are given in the form of scholarships, while others are savings bonds and cash.
"It really did help us get a better start in college," Katie said. "It helped us pay for things a lot easier, because we had that opportunity to sell our animals. We paid all of the fees with our money and still usually had some left over."
Family bonding time
Although only three of the Krysztof children will be at this year's Douglas County fair, they will still enjoy time together. Spending hours with each other has been their tradition at the annual event.
"It's a connection we have with the fair," Emily said. "As long as someone was still doing 4-H, we had to go to the fair. Then when that's gone, it will be weird. I'm sure we'll still go, because it seems odd not to go to the fair, but it will be weird without the obligation to go."
How can sisters spend hours upon hours inside a hot community building full of animals? Simple — playing cards.
"We learned so many card games," Emily said. "We also enjoyed lots of tropical sno cones."
Not all of their time was spent inside playing cards. Many 4-Hers also head to hoses to cool off their animals … and each other.
"The water fights were always a blast," Brianna said. "You always knew to bring extra clothes on Saturday."
Another annual 4-H fair tradition is the food.
"We always have our list of foods we have to eat each year," Katie said. "Those include funnel cakes, onion blossoms and pork burgers."
Although their time participating in the county fair is dwindling, the Krysztofs still consider it to be the big event of the summer.
"It's pretty much the highlight of the summer," Katie said. "It was good to get together with a different group of friends. We always met people from other clubs. The fair was the one time of the year you can get together and have a lot of fun."