Food pantry is still in need of donations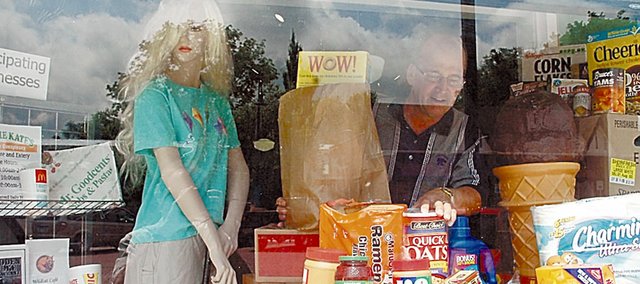 Donations have lagged in a food drive for the Community Food Pantry, but the need has not.
Laura Dickinson, who leads the food pantry effort at the First United Methodist Church, said there have been some donations, but needs are surpassing supply.
"We have had a number of donations, both in food products and cash donations, during the month of July," said Dickinson. "The needs continue to rise. We are serving approximately 100 families per month, with that number reflecting 300-400 individuals.
"Groceries purchased for the food pantry from cash donations have cost between $500 and $750 per month for the last six months," she said.
To help with those ongoing needs, Kite Video has its food drive for the pantry going for the second time. Those who bring in donations to the store at 719 Eighth Street receive a packet of coupons good for more than $50 in discounts at various Baldwin City businesses. Those are given to anyone who brings in a bag or bags of food or donates more than $10.
But that effort isn't going too well, either.
"We currently have about one third of what we got last year," said Joanne Kite. "It was going great the first three or four days, then it really dropped off. We still have 47 of the 75 packets of coupons. We have given out 28 sets of coupons. Last year, we gave out 63."
That food drive lasts until Monday.
"The food pantry is in needs of staples, such as peanut butter, canned meats, canned fruit and toilet paper," said Kite. "The number of families here in Baldwin City that need help continues to grow. All donations are very much appreciated."
Dickinson identified some of the same needs, but added more.
"Our ongoing needs are canned meat, canned fruit, paper products, dried fruits, Hamburger Helper, laundry soap, personal hygiene products, cereal, pasta and juice," she said.
Youngsters in Baldwin City have gotten into the donation act, too. There was a birthday party last month and another one recently where food and other items for donation to the pantry were asked for instead of presents.