BHS

runners aim for fourth straight title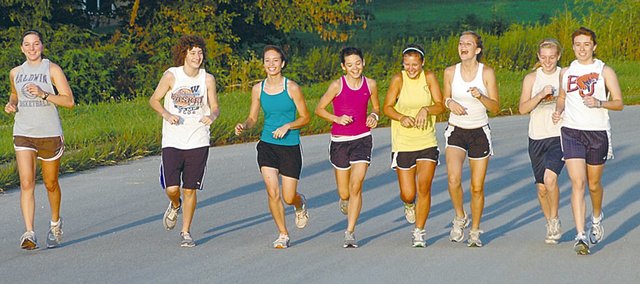 Three straight state championships might not be enough for Baldwin High School senior Heather Karlin — she's aiming for a four-year sweep.
The mere thought of a fourth Class 4A state cross country team title has her running nearly five days a week a month before practice officially begins. The lone returning senior has her sights set high for the fall.
"That would be a dream come true," Karlin said of winning a fourth state team title. "I tell the girls that we need to do things as a team, stick together and encourage everyone. I haven't really said anything about state, but I think it's in the back of our minds."
Karlin might be right, because she's not the only Bulldog arriving at 6:30 a.m. to run several miles. She's been joined by the majority of the team at times, with as many as 12 girls showing up to work out in the summer mornings.
"That's my vision of what we want for the season," Karlin said. "That's why we are out here running during the summer. I hope it's in the other girls' minds, too. I think we can do it."
Sometimes the Bulldogs are joined by recent graduates who tag along for the run, but most have been current teammates. On average, more incoming freshmen attend the voluntary runs than any other class.
One of those freshmen is Ashton Temple. She is one of the five or six who have attended a workout this summer. Although just a freshman, she understands how summertime training can benefit a runner.
"You have to have commitment to get up in the morning and come run with the team," Temple said. "You need to do it to get in shape for the season, but it's mostly on your own."
However, she was quick to say the early mornings can be tough, but she's willing to sacrifice some sleep to run with friends.
"In the mornings when I start to get up, I sort of dread waking up so early," Temple said. "Once I get here, it's really fun to be with the girls."
Like most runners, the BHS girls' cross country team members also understand that running with teammates is a lot easier and more motivating than running alone.
"It's a lot easier, because they are there to help push you to keep going," Temple said. "I like that my friends are here working out, too. It helps make it more fun."
Karlin agreed, but also said running in smaller groups can be better once in a while, but larger groups are better for the team as a whole.
"It's kind of nice to run in small groups sometimes," Karlin said. "Bigger groups are better for the younger girls. I hope this helps build our team chemistry for the season. Running with more people pushes you to go further and harder. It helps everyone. It's what teamwork is all about."
BHS coach Mike Spielman sends his runners empty running logs for them to fill out during the summer and return to him. He's been impressed with mileage of the girls' team during the first half of the summer.
"I have been very impressed with the girls this summer," said Spielman. "I've been very impressed with how early they got started and the amount of running they're getting done. It's going to be one of our best summers ever."
Running isn't the only early morning team activity taking place among the Bulldogs' clan. Several of the girls also swim laps at the Baldwin City Municipal Pool after their morning runs.
"It helps with a lot of things, but especially with breathing," Karlin said. "It also helps us build a better base. It's also nice to jump in the pool when it's already 85 degrees at 6:30 a.m."
Spielman said the swimming is a great workout after a run.
"First, the pool just helps with flexibility and stretching," he said. "Second, it's also good cross training and it helps them cool down, too."
When asked if the swimming was the Bulldogs' secret to success, Karlin laughed, but didn't say it wasn't either.
"I don't know if I would say that," Karlin said. "I think it definitely plays a key role in our training during the summer."
The Bulldogs begin practice on Aug. 16. That's when their official training for the state title repeat begins. Being the lone senior, Karlin is excited, but nervous, too.
"I'm a little bit nervous actually," Karlin said. "I'm always nervous at the beginning of the year, but I'm actually looking forward to it. I think it will be a lot of fun. I think we'll have a good season."