School board approves fees, graduation date changed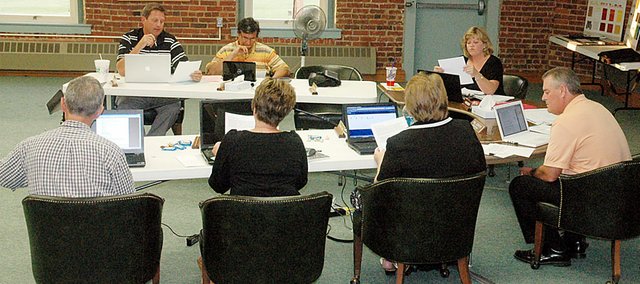 On Monday night, the Baldwin School Board approved several agenda items that directly affect the 2010-2011 school year.
One of those will be a benefit for those wanting their child to attend an all-day kindergarten class. The other larger ones will affect Baldwin High School and Baldwin Junior High School students who participate in activities and BHS seniors.
Monday's only non-unanimous decision was a vote on the activity fees at BJHS and BHS. The school board voted 4-2 to set the fees at $40, which is the same price they were during the previous school year. Board Members Bill Busby and Blaine Cone voted against the user-fee price.
"The board considered raising those fees, but in the end, the majority of the board decided to stick with activity fees as they were this year," Supt. Paul Dorathy said. "They won't increase. The board discussed the fees, but the majority felt they wanted to keep them the same for at least one more year."
The school board also approved its textbook fees for the upcoming school year. The approved textbook fees are $40 for kindergartners, $50 for first through fifth grades and $70 for sixth through eighth.
The BHS textbook fee jumped $25 to $90 for this year. The new cost will help pay for several class fees.
"Yes, it went from $65 to $90," Dorathy said. "But the big thing I want parents to understand is that there won't be any of those individual class fees. That has gone away, because it was a bookkeeping nightmare for us and it was kind of an issue for the parents. On the average, most parents will pay what they paid before."
On Monday, the school board also approved changing the date of Baldwin High School's commencement ceremony. It was scheduled to be May 21, but BHS Principal Shaun Moseman recommended moving it to May 15.
Moseman said the date doesn't conflict with commencements at Baker University or Kansas University. The school board approved Moseman's change.
The other change to the upcoming school year was the addition of a second all-day kindergarten class. Dorathy said there were enough students enrolled to add a second class and still have some on a waiting list. He also said the increased fee for the class will cover all of the district's costs.
The next scheduled monthly meeting for the school board is at 6:30 p.m. Aug 9 at the District Office.