Officials: Baldwin City ambulance staff won't be cut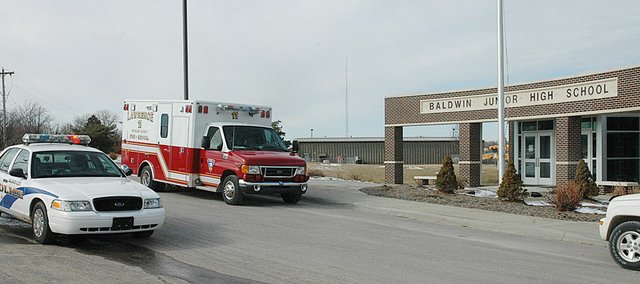 Turns out an ambulance will remain based out of Baldwin City next year after all, now that officials in Lawrence have dropped plans to recall an employee position from a station near the high school.
"There will not be a change in the staffing," said Chief Mark Bradford, of Lawrence-Douglas County Fire Medical.
The decision — reached by city officials Wednesday at the insistence of Douglas County Commissioner Jim Flory and County Administrator Craig Weinaug — came a day after commissioners first heard that the city planned on saving $65,000 in personnel costs next year by recalling an emergency medical technician from the Baldwin City-based ambulance, a vehicle whose crew focuses on calls in the southern third of the county.
Without the EMT in place, the ambulance no longer would have complied with state licensing guidelines. That prompted Lawrence-Douglas County Fire Medical to plan on replacing the ambulance in Baldwin City with a so-called first-responder vehicle, likely an SUV.
The SUV still would have been driven by a paramedic and still would have included all the necessary medical equipment and materials for treating and stabilizing people who would need help, Bradford said. The SUV, however, would not have been able to transport anyone to a hospital.
Flory and Weinaug opposed the move, asserting that it would violate the terms of a 1996 agreement that merged the Lawrence Fire Department with the Douglas County Ambulance Service. That agreement requires the combined department to maintain an ambulance based in Baldwin City, staffed by one paramedic.
City Manager David Corliss, as he was compiling the Lawrence's draft budget for 2011, had understood that having two employees on the ambulance added expenses beyond those required by the agreement.
Now that it's clear an ambulance cannot operate without two qualified employees, the ambulance will remain based in Baldwin City for 2011.
"I do not apologize for looking for ways to cut the budget," Corliss said.
Personnel costs for Lawrence-Douglas County Fire Medical are shared by the two governments: Lawrence pays 74.36 percent of costs, while the county picks up the remaining 25.64 percent.