Martin steps down as
BHS

softball coach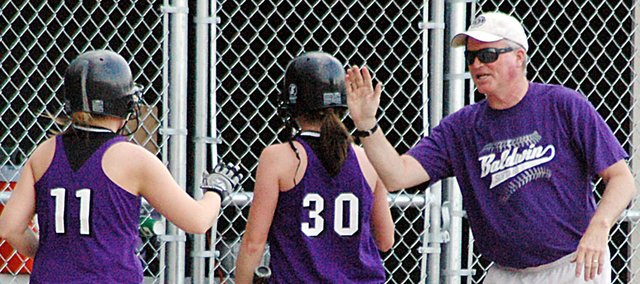 After two seasons at the helm, Bob Martin has stepped down as the Baldwin High School girls' softball coach.
Martin's Bulldogs went 23-17 during his tenure, so lack of success wasn't his reason for resigning so soon. His resignation was approved Monday night at the Baldwin School Board Meeting. On Tuesday, he explained his reasons for leaving the program.
"There were a couple of reasons," Martin said. "First, I felt like I needed some time off. I'm coaching three sports. Second, coming out of basketball, it was difficult making the adjustment from basketball into softball. I felt I wasn't able to give the time to softball that I needed to give to it.
"I really enjoyed coaching it for two years," he said. "I enjoyed working with the girls a great deal, so it's not anything like that. It was just a case of I felt like I needed some time away from sports and the spring felt like the best time."
As the head girls' basketball coach, too, Martin was never able to find time in between the winter and spring seasons. This year, the girls' basketball squad advanced to the sub-state championship game. Therefore he was able to practice with the softball team only three days during the following week before spring break started.
"We were starting softball before basketball was over and that was a difficult adjustment to make," Martin said. "I felt like I wasn't able to give everything I needed to give to softball. I enjoy coaching it and I enjoy working with the girls."
BHS Activities Director Gary Stevanus was sad to see Martin resign as the coach, but understood his decision.
"Bob did a great job with our program for two years," Stevanus said. "I know it was a tough transition from basketball to softball, but he did a great job with it. He just decided, from a time standpoint, he didn't want to coach three sports."
Martin also coaches the freshman football team at BHS during the fall.