Election time nears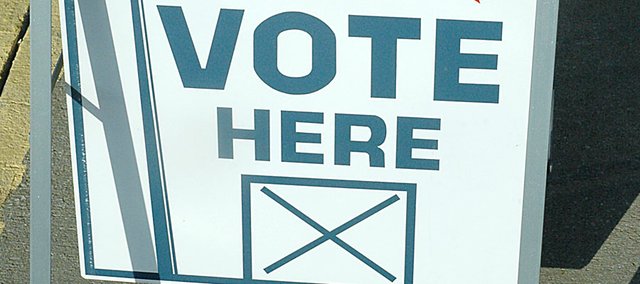 With all the election advertising going on now and the candidate signs starting to pop up, it's easy to tell the election season is upon us. Here are some questions and answers regarding the elections, in general, which are answered through the Kansas Secretary of State's office and county election officials.
Q. When are the elections and what are the voter registration deadlines for them?
A. The primary election is Aug. 3 and registration deadline for it is July 19. The general election is Nov. 2 and registration deadline for it is Oct. 18.
Q. How do I register to vote?
A. Registration forms are located at locations established by the county election officer. Banks, libraries, schools and government offices ordinarily have them. The forms are also available online at the Secretary of State's website at kssos.org or at your county's website. Once the form is filled out it must be delivered or mailed to the county election officer. Faxed or electronic copies are not accepted.
Q. How can I contact my county election officer?
A. In all but four of the 105 counties in Kansas, the county election officer is the county clerk. The four largest counties – Johnson, Sedgwick, Shawnee and Wyandotte – have election commissioners appointed by the Secretary of State. That information can be found at kssos.org.
Q. How do I find out where I vote?
A. The county election officer can provide that information when provided an address. Again, it depends on who that officer is on where you need to go to obtain the information, but the Secretary of State website is a good start.
Q. Who is up for election this year?
A. Although it's a non-Presidential election year, many offices and legislative seats are up for election in Kansas, including the governor's position, U.S. Senate and U.S. House of Representatives. The primary election here has a run-off between Republican candidates TerriLois Gregory, Baldwin City, and Scott Barnhart, Ottawa, to see who will challenge 10th District Rep. Tony Brown, D-Baldwin City, in the general election.