Eberhart, Bulldog wrestlers enjoy Sunflower Games success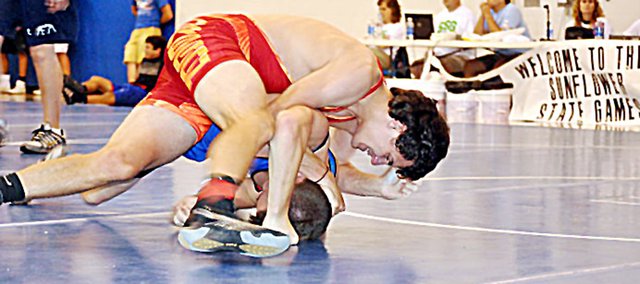 Although more than half of the Baldwin City wrestlers medaled at the Sunflower State Games Saturday in Topeka, Joel Eberhart stole the spotlight.
Eberhart, an assistant wrestling coach at Baldwin High School, agreed to wrestle at the annual summer games a year ago before he withdrew because of an injury. He made good on his promise this year. In fact, he may have exceeded everyone's expectations.
On Saturday, Eberhart went 3-0 in the 145-147-pound bracket in the 19-29 year old age group to take home the gold medal.
"We had a bet that if 15 entered, Joel Eberhart was going to enter," BHS coach Kit Harris said. "We finally got enough and he wrestled. He kicked butt and went 3-0. He had a tough bracket and beat one guy who is wrestling now for Emporia State. That was awesome."
Eberhart won his first match by a major decision, 15-5. He pinned his second opponent and defeated his final opponent 2-0 to win the tournament.
"It felt pretty good," Eberhart said. "The people I wrestled were all pretty tough and it was nice to win. It was especially nice to win in front of the high school kids and I think it made them excited to wrestle in the tournament as well."
The Bulldogs' assistant coach graduated from Labette County High School in 2005. He's only competed once since high school and he only wrestles with the Bulldogs at practice during the winter.
"He hasn't wrestled competitively since high school," Harris said. "This was his first tournament since then. He's good. He's got a funky style that works well and he's really competitive."
Although he was happy to win, Eberhart said the victory came with some pain.
"I was incredibly sore the day after," Eberhart said. "It was a little hard to make myself move. Getting into wrestling shape is difficult and it's muscles that you really forget that you use in wrestling that were definitely the most sore."
During his matches, he had the support of the Bulldogs and their fans. He enjoyed being on the other end of the coach and wrestler relationship, but found himself coaching himself during the matches.
"It was definitely fun and interesting to hear what they were telling me to do," Eberhart said. "Kit still coached me for the most part and during matches I found myself thinking like a coach, which is kind of cool, but it was great having those guys cheer me on, definitely made me feel like I was on the wrestling team for a day."
The Bulldogs also enjoyed watching Eberhart wrestle well Saturday.
"It was awesome watching him kick butt after not wrestling for a few years," BHS senior Greg Schiffelbein said. "Plus, it was even cooler for me because I let Eberhart borrow my Pennsylvania singlet so he made it look good for me.
Eberhart wasn't the only winning wrestler to represent Baldwin at the Sunflower State Games. BHS junior Colton Bonner won the 15-18 year old 201-219 pound weight class. He also went 3-0 and pinned his final opponent in 25 seconds.
"Colton Bonner had a great day," Harris said. "He has a few moves that he's really good at and he can catch anybody with those moves, but he's trying to add more moves. He's a more well-rounded wrestler this summer than he was during the winter."
In all, Baldwin brought home nine medals (two gold, five silver and two bronze) from the Sunflower State Games. Earning a silver medal were BHS senior Keenan Coffey, BHS senior Will Von Bargen, Schiffelbein, freshman Derick Jaroscak and BHS freshman Thomas Von Bargen.
"It was a lot of fun," Harris said. "We had the largest turnout of any team there with 16 wrestlers. The next biggest team had 10 and that was the host school. So that was pretty cool. We wrestled well. We had everything from brand-new beginners to our top wrestlers. Everybody competed well and we came away with nine medals. We were pretty happy about our performance as a team."
Harris and Schiffelbein both agreed the tournament brought the team closer together for a week of training during the summer.
"In my opinion, it's wrestling tournaments like these that bring a team closer," Schiffelbein said. "We have lots of fun on and off the mat."