Dorathy, school board talk school closings
No decision made Monday, but realities of tight budget bringing more concerns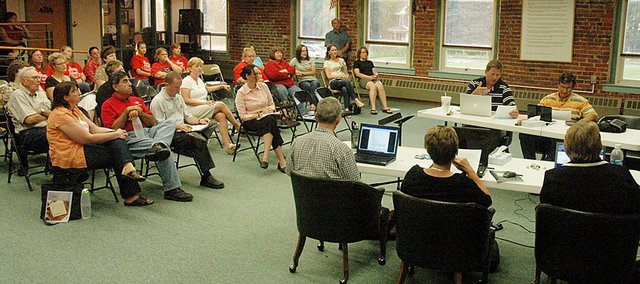 Although a decision wasn't coming Monday night, patrons on both sides of the elementary school closing issue voiced their opinions at the monthly Baldwin School Board meeting.
The usual crowd of rural and city patrons weren't the only ones to speak up Monday night. Supt. Paul Dorathy gave his two cents before school board members gave their thoughts.
"We've reached a point in our budget that I'm not sure we can support all of the buildings we've got right now," he said Monday evening. "As your superintendent, I've backed all of the buildings we have, but I can't keep sitting back and watching us fall behind. I think the board is going to have to make decisions that aren't going to be popular."
During his speech to the school board, Dorathy cited the shrinking budget as the primary reason for needing action. He reiterated that point Tuesday morning, saying the country's economy has affected the district, too.
"We've cut $1.5 million out of our budget the last two years and we've had to reallocate another $400,000 for health insurance," Dorathy said. "So you're talking almost $2 million that we've had to deal with in the last couple of years. It's reached a point where we can't keep doing all of the things that we want to do and support all of the things we're supporting right now without $2 million worth of our budget.
"That's due to the economy," he said. "We're being hit the same way as everybody else and because of that we're going to have to make some really tough decisions. One of those that we've got to consider is how many facilities in this district can we support?"
Most of the budget cuts have come from the Kansas Legislature. The state's pupil base aid per student has decreased from $4,433 to $4,012 during the last two years. That decrease has taken its toll on the district and its staff.
"We're continuing to ask our staff not to take a raise," Dorathy said. "We've been cutting staff, programs and budgets. We just can't keep doing that and support everything we've supported in the past.
"We've got to come to sort of a resolution," he added. "We can't keep fighting with each other. We have to make a decision on what's best for all students in this district."
His recommendation was to look at the 2011-2012 school year and have a decision made by December. He said the timeline is important, because he wants to give everyone enough time, but not wait too long before making a decision about the future of the district.
"I don't think that kind of decision should wait until May, like we did this year," Dorathy said. "I think that kind of decision needs to be made mid-year, so that we know what's happening one way or the other. I think that's why we've set the timeline we have, which is to try and make a decision by December. I would say that timeline is tentative, but I also don't think this thing should drag on."
Several school board members agreed with Dorathy, including Scott Lauridsen, who said he agreed that the sooner a decision is made, the better for the district. He also said the school board should make a list of possible places to spend the money it would save from closing one or both of the rural elementary schools.
School Board President Alison Bauer, who was re-elected to the position Monday night, approved of Dorathy's plan.
"We can't please everybody," she said. "There is no way we are going to be able to do that. Our district has been torn down. I'm tired of hearing my school district get trashed. We need to make a decision on what's best for all of our students."
Board Member Bill Busby said he favored keeping the rural schools open when the district enrollment was growing. He continued to say that was 15 years ago and those schools have the same enrollment numbers as they did then. Busby finished by saying that if Baldwin wants to be competitive as a district, it's going to have to make sacrifices.
"We're not doing what's best for kids," Busby said. "We're trying to decide what's least worst for our students."
Not everyone wanted to act so quickly. Board Member Ruth Barkley doesn't want to make a decision too soon, because the district may grow after the Intermodal train shipping hub near Edgerton is built.
"I don't want to make hasty decisions to where we are closing buildings and then we have a population explosion," Barkley said. "There's a significant impact of the Intermodal, especially as close as we are to it."
During the public comment section of the meeting, 15 patrons addressed the board with their opinions on the state of the district. Most spoke about the possibility of closing Marion Springs and/or Vinland Elementary Schools.
No motion was made Monday night by the school board. It will meet at 6:30 p.m. July 22 at the District Office for a special budget meeting.