BHS

football players working hard at camp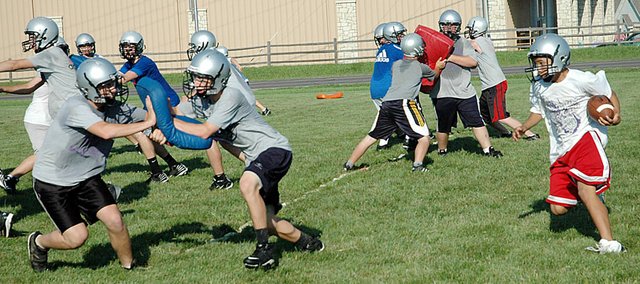 Mike Berg has been impressed, but not shocked, at the effort of his Baldwin High School football players during the first three days of their annual summer camp.
The longtime BHS football coach has enjoyed the beginning of the week with his players.
"The first couple of days were awesome," Berg said. "We're really excited about our senior class. A lot of them have been playing since their sophomore years. They are being great leaders and they are 100 percent committed. You can see that by their enthusiasm out here."
He knows his players are hungry to win after the 2009 campaign, where the Bulldogs only won two games. They lost just a handful of seniors from that squad, so most players were excited to start camp Monday morning.
"Everyone that was on the team last year is coming out on the field this year with a bad taste in their mouths," senior Jesse Austin said. "You can tell that it's affected everyone, because we are all giving more than we can this summer."
Since the summer began, the Bulldogs have been lifting weights and practicing during the mornings. They have also attended a team camp in Leavenworth and participated in the summer 7-on-7 passing league in Bonner Springs. However, the beginning of camp has the players focused on improving from last fall.
"They are excited to be out here," Berg said. "Last season left a bad taste in their mouth. Instead of feeling sorry for themselves, they decided to work harder. We've raised the bar. The coaches have raised the bar and we expect more out of them. The kids have raised the bar, too. I see a lot of leadership qualities coming out of the kids and a lot of encouragement.
"We told them that everything is a competition," he said. "We took 7-on-7 and our team camp at St. Mary seriously. We wanted to win and get better every play. That's carried over into our practices. They make every play count, instead of taking plays off."
It's been that type of excitement all over the BHS practice field this week. Senior Ryan Rogers was thrilled to start camp Monday.
"Camp is good," he said. "It's fun to get everything going again. We've been working on some drills and we're ready for the season. It's really nice to be back out on the field and seeing all of our teammates again."
The Bulldogs' annual summer camp began at 7 a.m. Monday and it will end around 9 a.m Friday. As with every summer camp, fundamentals are the key emphasis of the coaching staff.
Berg and his crew are no exceptions to that rule. They've stressed the fundamentals of football on both sides of the ball.
"We are doing a lot of basics," Berg said. "We broke down blocking and tackling, which I think are the two most important things in football. We are working on their form, fundamentals and their foot work."
He added that the Bulldogs wouldn't be working on too many offensive or defensive schemes during the week. Part of the reason is because they have added some of the schemes in during their summer morning practices.
"It's unbelievable how everything we've done this summer has helped," Austin said. "We've been practicing in the mornings. Plus, we've got a chance at camp to light people up and that's got everybody hyped up about coming out here and doing work.
"This might be our most productive year at camp since our freshman year," he said. "Everything was pretty crisp that year and we had a good season. I think that's how we are looking right now. Everything is looking really well."
After Friday, Berg will no longer be able to meet with large groups of his players because of state regulations. His next interaction with his team won't be until Aug. 16 when all of the BHS fall sports officially begin practice.
He isn't concerned about a month away from his players, because this week has been a success thus far.
"It feels like two-a-days already," Berg said. "Sometimes you'll have a camp and the kids will just go through the motions. All of the coaches told them yesterday, 'It's not just good enough to be here. You've got to be here with 100 percent effort.' That's what they're doing. They're here because they want to be here."
Once practice does start Aug. 16, the Bulldogs will be back to focusing on improving from the disappointing 2009 season.
"We're all kind of angry and ready to get out on the field again," Rogers said. "We are all kind of upset about last season, so we want to get better and forget about last year."