Art Walk to feature ice cream, music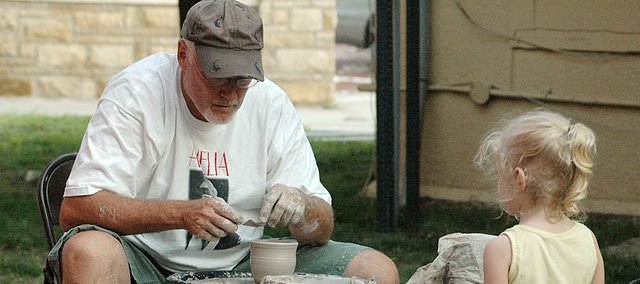 It's the time of summer to enjoy some music, art and cool off with a bowl or two of ice cream.
That's what will happen Friday night in downtown Baldwin City when the Baldwin Community Arts Council will have its second Art Walk of the season. It will be from 7 p.m. to 9 p.m.
"Will Cooper will be leading the community band and ice cream will be dished up by the Baldwin Community Arts Council," said Tom Wilson, president of the BCAC. "In addition, I'll have the pottery wheels set up and folks are invited to learn to throw a coffee mug.
"The mugs will be fired and at the August Art Walk, we will have a glazing party," said Wilson. "At the September Cuppa Java Art Walk, these mugs will be for sale. Come out and support the artists while you enjoy a bowl of ice cream and listen to great music."
Artists will also be displaying a variety of items for people to look at and purchase. The Lumberyard Arts Center will also be having another art display open.
Two- and three-dimensional works, from landscapes to portraits, demonstrate a shared love of drawing by artist, poet and teacher Melinda Hipple and her award-winning student, 11-year-old Emily Dixson.
An opening reception will be held Friday from 7 p.m. to 9 p.m. at the Lumberyard Arts Center. Afterwards, the Gallery will be open for this exhibit through Aug. 11 on Tuesdays through Fridays from 1 p.m. to 4 p.m. and Saturdays from 9 a.m. to noon at the Lumberyard Arts Center, 718 High Street. Admission is free and the public is invited.
Wilson hopes to have a good crowd for all the events.
"This is also a great time to check out the local shops," he said. "Hope to see you there."