School board won't vote on closing schools Monday night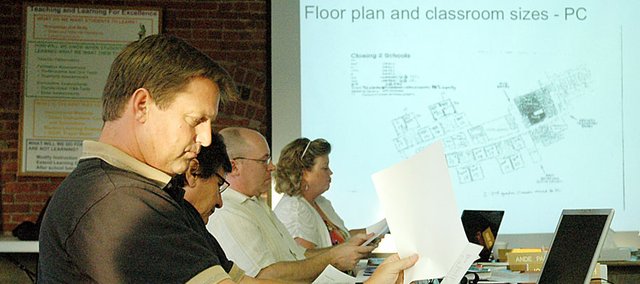 While Monday's Baldwin School Board meeting will be packed full of agenda items, including many policy items, it appears there won't be a vote to close any schools.
The topic of closing one or two of the rural elementary schools has been a hot one for months within the district. Last month, Board Member Scott Lauridsen said he would be bringing a motion to the July meeting to close at least one of the rural elementary schools. He recently said that wouldn't be happening, but he gave several reasons for his decision.
"First, I want to give the administration a chance to weigh in with their perspective on the potential closing(s)," Lauridsen said. "I anticipate asking the board to ask the administration to come forward with a plan and recommendation to close one or both for the August meeting. Second, to help the BOE weigh the pros and cons, a discussion of where the savings would be targeted in the 2011-12 budget is appropriate.
"Third, several patrons expressed concern about the BOE making this significant of a decision during July when many interested patrons would be on vacation and unable to attend," he said. "I want to keep this issue as open and transparent as possible. Last, it would be ideal to have all board members present for such an important decision."
There will be a discussion on budgeting for district facilities at the meeting, but Supt. Paul Dorathy wanted patrons to know there won't be a vote to close schools Monday night and those schools will be open in August.
"I believe the only thing the board is going to discuss is a future timeline for the buildings in this district," Dorathy said. "They will need time to do studies on what we can financially support in the future.
"I think it needs to be clear that for the next school year, 2010-2011, all of the present buildings will be open," he said. "We will be opening the new primary center, but other than that, there will be no other changes. Marion Springs and Vinland will be open next school year."
Monday's agenda is also packed full of other items. Those include recognition of the Baldwin High School track and field teams, election of officers, classified early retirement and all-day kindergarten.
"We've had enough requests to add another section of all-day kindergarten," Dorathy said. "Right now, we believe that with the fee increase that our costs will be covered to add another section. Even if we do add a second section, we will still have a waiting list for all-day kindergarten, so we feel that the need is there. As long as it's paying for itself, we are going to recommend that the board add another section."
Much of the new business section of the meeting will be the annual approval of designations. The school board will also approve user fees and textbook fees.
"The user fees and textbook fees will be discussed at the meeting," Dorathy said. "I believe the recommendation is going to be to leave those as they are and not increase those fees."
Monday's meeting will begin at 6:30 p.m. at the District Office.
"It will probably be a fairly lengthy meeting," Dorathy said. "July usually is a lengthy meeting, because there are so many organizational things at this meeting. We also do a lot of policy recommendations."