Neighbors: Bootsie Lauridsen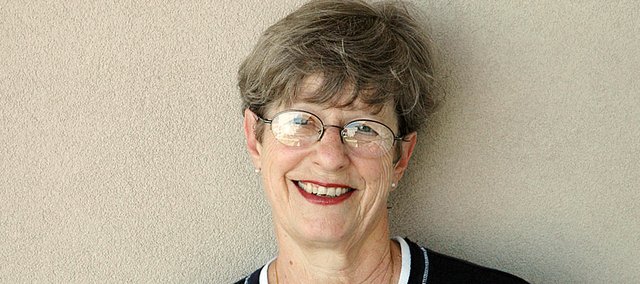 Name: Bootsie Lauridsen
Occupation: Retired school secretary
Family: husband - Monty, sons-Lee, Scott, and Kent, daughter-Diane;14 grandchildren and one great-granddaughter
Place of birth: Fairmont, Minn.
Q. How long have you lived in Baldwin City and what brought you here?
A. Forty-six years. A train brought us from Albert Lea, Minn., to Kansas City Union Station. Monty came to interview for a teaching job at Baker University. Here we are!
Q. What's the biggest risk you've ever taken?
A. Going down the Buffalo River and around Grey Rock in a canoe with Monty on a spring trip with Kirby Hayes and his First United Methodist Church group of adventurers. Yikes!
This day I got the answer to the next question.
Q. What's the best piece of advice you've ever been given?
A. "Keep your paddle in the boat, and shut up," said Monty, steering from the back.
Q. What two things would you want people to know about you?
A. It took me 20 years to get my BA degree in Physical Education, Education, and Psychology(1956, Gustavus Adolphus to 1976, Baker University) I called it my bi-centennial project.
I love bluegrass, especially at Winfield. We were there on 9/11 where music brought us together and helped us heal and pay tribute.
Q. What did you want to be when you grew up?
A. A recreation director in the penal system. In other words, a social worker who liked sports.
Q. What's the best way for you to get away from it all?
A. Writing or enjoying nature, especially bird watching somewhere by myself. Our get-away for over 20 years was camping at Lake Pomona on the state side. We once floated on our pontoon among hundreds of white pelicans on the tree stump end of the lake....priceless!
Q. What's your ideal vacation spot?
A. (Yin) the North Shore of Lake Superior (Yang) NYC
Favorite things:
Song: "In My Life" from "Les Miserables"
Movie: "Midnight Cowboy"
Color: Blue
Food: Oriental and, God help me, French fries