Food drive aimed at refilling community pantry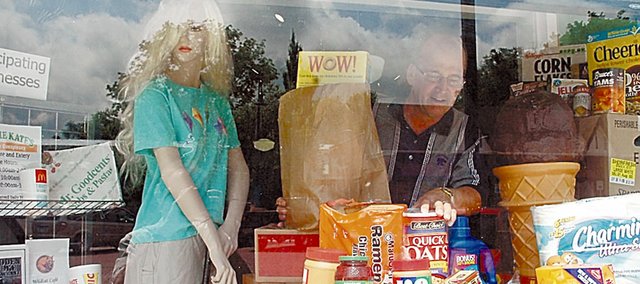 Kite Video is putting on a food drive to aid the Community Food Pantry for the second time in two years. It's come at a critical time, as the food pantry's shelves are almost empty.
"With the economic situation and children out of school, the food pantry is in real need," said Joanne Kite.
Two weeks ago, 24 people came to the pantry seeking food to feed a total of 71 family members. That almost wiped the supply out. Kite hopes to turn that situation around.
"From July 12 to July 26, bring in a large bag or bags of groceries or a donation of $10 or more to Kite Video and get a packet of coupons," she said. "Coupons are available for the first 75 families, one per family. Last year, we gave away 65 packets of coupons.
"The coupons are worth over $50 in free product or discounts," said Kite. "Some of the free items include movie rentals, pizza, frozen drinks, ice cream, cookies, desserts, side dishes, tacos, tanning, golf and swimming."
Kite knows the community is always generous and thinks the coupons are a way to make the process better.
"People are asked to donate all the time and money is tight for many … but they still give," she said. "This is a way to say 'thank you' for helping your neighbor. Last year, we even had some people donating who didn't take their coupons. They said to give them to someone who needed them more."
As for what's needed at the food pantry, the list is lengthy. But there are some suggestions.
"Key items in demand are canned meat, healthy drinks like V-8 and Ensure, and other kid-friendly products," said Kite. "The do not accept out-of-date food. They do accept health and beauty items, such as toothpaste and toothbrushes, shampoo, soap, cleaning and laundry products."
Because of the demand at the food pantry, they have recently restructured and are open only from 9 a.m. to noon on Saturdays at the First United Methodist Church.
Kite and the other 26 businesses involved in the food drive and marketing efforts are trying to do their part to help out the food pantry.
"The generosity of the local businesses and people in the community has been amazing," she said. "It is a real blessing for those who are in need of a little help."