American Legion baseball squad improving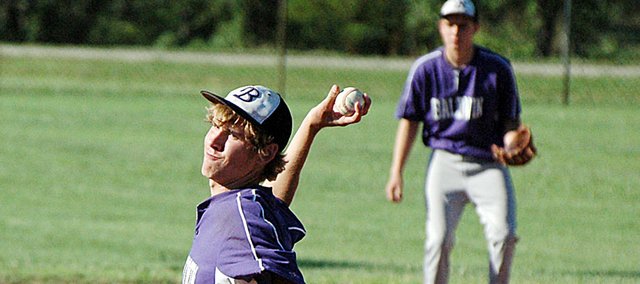 For the first time in years, Baldwin City has an American Legion baseball team, which consists of many players from the Baldwin High School varsity squad.
This summer nine BHS players who were on the 2010 team are currently on the Baldwin American Legion team. Through 14 games, Baldwin is 7-7 as they split with Eudora on Tuesday, losing 10-7 and winning 4-0.
"We fell behind early again and gave up a lot of unearned runs," coach Brian Turk said. "Our bats were dead early, but we tried to rally in the seventh inning. It was just too late.
"In the second game, Kody Kalb pitched a complete game and had 10 strikeouts," he said. "We put the ball in play better and had some clutch hits. I'm glad we got the split."
He added that having a high number of players from the BHS squad has helped the team during the summer contests.
"It helps that most of the players were on the same team this spring and other years," Turk said. "Some kids are playing catch up, but those that have played together know what to expect from each other. That's helped a lot."
BHS junior Hunter Burkhart has enjoyed spending time on the ball field with his high school friends and teammates.
"It's a lot of fun," he said. "We all know each other and relate to each other. It gives us the chance to see each other over the summer, too."
Baldwin started its season June 3 and lost its first three games. It was swept in a doubleheader by Chanute and then lost its first game at Paola. Then Baldwin won its second game against Paola.
That win sparked a six-game winning streak. During that run, Baldwin swept Iola, swept Linn County and split with Burlington. Last Thursday, Baldwin was beaten by Garnett in both games.
"We started off slow," Turk said. "We didn't really have much time to work together and build chemistry. Three of our losses have been by one run, so we are competing well. We've dug ourselves some holes with slow starts sometimes, but we've come back in several games, too."
Burkhart said the team sort of accepted losing, but has since changed its mindset.
"At the beginning, we had just carried over that it was OK to lose from the recent high school season and got swept the first two games," Burkhart said. "Then we stepped it up and had a six-game winning streak going. I think we are making a lot of progress."
During the early part of the season, Turk was impressed by BHS senior Kyle Pattrick's performances. However, Pattrick has been out of the lineup recently, because of an injury.
"Kyle Pattrick was having a nice a season," Turk said. "He's got a foot injury right now, which really hurts us. That affected our numbers a bit, but he was playing well before his injury."
He said other players are performing well this summer.
"Taylor Hartshorn and Tyler Cawley are playing pretty well," Turk said. "Kody Kalb is playing well, too. He's from Arizona, but he's related to the Butells so he's here for the summer. He will be going to Baker next year and he's a good kid."
As far as the team is concerned, Turk is pleased with the players' progress and improvement this summer. He said the coaches have tried to break down the game and make sure the players are learning the correct way to play baseball.
"I feel like we get better each time we go out and play," Turk said. "We are working on different things, like fundamentals. We've broken down some of their swings and made some adjustments. Some kids are pitching that haven't pitched, but they've done a nice job. Others have done a nice job of adding some off-speed pitches to their arsenal.
"We are working on how the game is supposed to be played," he said. "The mental aspect has been the biggest thing we need to work on. That will come with reps. I feel like we're gaining ground. They are understanding what we are after and what's expected from them."
In Burkhart's opinion, the team is improving its teamwork and fielding, but its hitting needs work. He also said they need to have a winning attitude.
"I feel like we are making a huge jump from our former high school season," Burkhart said. "We now know how winning feels and that we shouldn't settle to be just OK. We need to keep improving."
Improvement is what the summer is all about for all high school athletes. The BHS baseball team won't practice until March, but Turk is hoping this summer will make a difference come next spring.
"It helps a bunch," Turk said of playing baseball during the summer. "Baseball is a game of reps. Each game is a little bit different and you can learn something from every game, especially at the plate. It's good to see more pitches and see how the ball comes out of their hand. Playing these games after a short high school season helps the kids improve their game, especially at the plate. They are also learning different positions during the summer.
"Playing together will also build team chemistry and get them talking on the field more," he said. "Communication is something we've been harping on them about since day one, because they don't talk enough on the field, compared to what it seems like it used to be. If they start communicating more, their chemistry will improve, too, which makes them more comfortable around each other."