School district 'fact finders' are outlined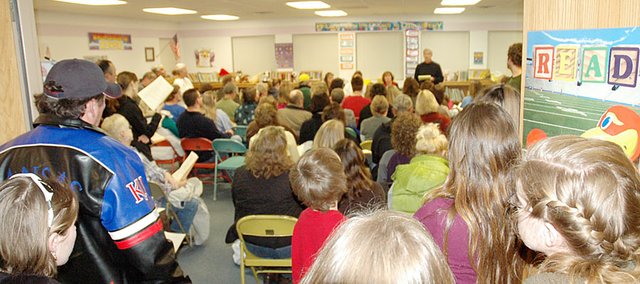 Last week's public meeting at Vinland Elementary School might have been a one-time event, but it helped shed light about the district's fact-finding committee.
A group of parents from Marion Springs Elementary School and VES organized the Jan. 19 meeting. They were concerned about the fact-finding committee that was formed in late December. Around 100 people packed into the VES library for a 75-minute meeting.
"In a way, I was surprised at the attendance," VES Principal Gus Wegner said. "Yet, I know they are all parents who are concerned about their neighborhood school. They all asked good questions and there was no griping. It was a serious, but positive meeting."
At the meeting, Wegner briefly discussed the committee and what its task is for the Baldwin School Board. Most attendees were given a handout that overviewed the committee's first meeting.
"(Supt.) Paul (Dorathy) had been very clear to us that he wanted this to be open to everybody," Wegner said. "We handed out an outline of what we talked about at the first meeting.
"I thought it was well received," he said. "The sign of that was within five minutes after the meeting was over, most people had left. They heard the information and asked good questions. They just wanted some information about where this committee is headed."
Wegner also said the primary goal of the meeting was to inform parents and patrons about the committee. They wanted to keep them informed of what information comes from the fact-finding group.
Instead of holding more public meetings during the next month, Wegner and other VES/MSES representatives got a list of e-mail addresses of parents or patrons. Around 80 e-mail addresses were taken, but those who don't use e-mail can pick up a copy of the next meeting's outline at either of the two rural schools.
"The parents just want to know what they can do to help the district," Wegner said. "They know this is a really hard time right now. They just want to help."
The 12-person fact-finding committee has met twice this month to find facts about ways to save money in the district. If additional budget cuts come from the state legislature, the school board wants to have information to make a wise decision.
"Our purpose is not to make decisions about whether something happens or doesn't happen, or even should happen," Dorathy said. "Our job is to find out what would happen if each of these individual items were to happen in our district. We're trying to find the pros and cons of each item."
The items that are being looked into are four-day school week, attendance centers, closing one or two elementary schools, transportation, activities and administration organization. Dorathy said those are the main things, but maybe not everything.
"By the time the March board meeting is here, we hope to have all of this information to give to the school board," Dorathy said. "We aren't recommending anything. We're just giving them the information, so that they can decide whether any of these would be good for us as a district.
"What happens in Topeka will affect what we have to do or don't have to do within this district," he said. "We have to be prepared for what might happen. We want to have all of the facts if we have to make a decision."
The committee members are Cynde Frick (director of financial operations), Bret Jones (Baldwin High School assistant principal), Deb Ehling-Gwin (Baldwin Elementary School Primary Center principal), Chad Scoby (Baldwin Junior High School seventh grade math teacher), Dan Wallsmith (Baldwin Elementary School Intermediate Center principal, Gary Stevanus (activities director), Lee Hanson (BESIC fifth grade teacher), Mike Curran (BHS math teacher), Rita Tutschulte (MSES/VES librarian), Ernie Gwin (director of transportation), Wegner and Dorathy.