Local efforts continue to assist Haiti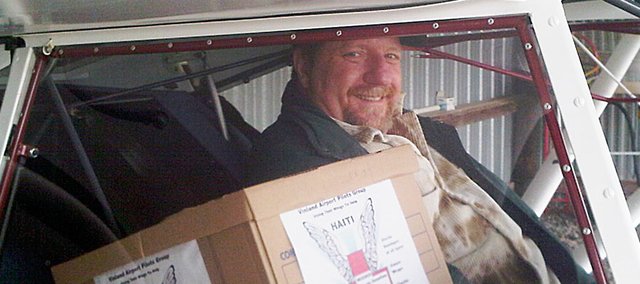 In addition to efforts at Baker University, the Haitian relief effort is also getting a boost from the Vinland Airport.
Craig Smith, who flies out of the airport, is organizing an effort to get pilots to take donation boxes to various airports around the area. People in those communities can donate items and the boxes will then be brought back to Vinland.
The boxes will be stored at McFarlane Aviation before being taken to Heart-to-Heart International in Kansas City, which will arrange for the items to be shipped to Haiti to aid people in the earthquake-ravaged country. Medical supplies such as sterile bandages, gauze, elastic wraps, bandaids and tape are desperately needed.
Residents of Baldwin City can drop items off at the airport, as well.
"Craig has done a great job in researching and setting up this project, so if you can, please help with this worthwhile effort," said Star Novak, of McFarlane Aviation.
Last week, two Baker University service groups started similar efforts. In addition, the Rev. Ira DeSpain, campus minister, is collecting money to be sent to Haiti.
Baker University student organizations Baker Serves and Mungano will be collecting donations of gently used coats, canned goods, personal care goods and care packages for Haiti through today. The items will be collected from 8 a.m. to 4:30 p.m. at the Student Development Office on the second floor of Harter Union. Personal hygiene products to donate include soap, shampoo, toothpaste, toothbrushes, sanitary pads, diapers, baby wipes, underwear and deodorant. Items needed for the care packages include bandages, gauze, gloves, masks, antibacterial soap, eye wash, orthopedic equipment and materials.
Anyone interested in contributing financially is encouraged to send money to Rev. Ira DeSpain at Baker University, P.O. Box 65, 618 Eighth St., Baldwin City, KS 66006. Rev. DeSpain will forward the contributions to the proper agencies.