BHS

girls advance to Top Gun championship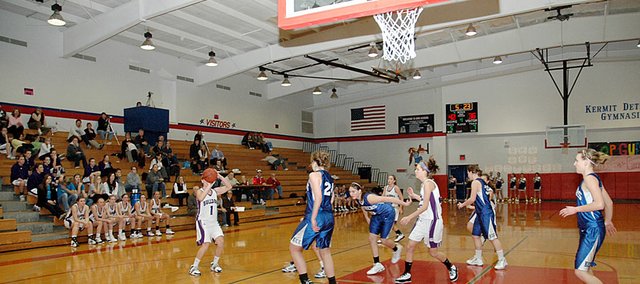 WELLSVILLE — For the first time in three years, the Baldwin High girls' basketball team has advanced to the Top Gun Tournament championship game. Baldwin beat Kansas City Christian 57-42 here Thursday night.
"It feels really good to be back," coach Bob Martin said. "We shoot for that every year. One of our goals each year is to be playing in the late game at the Wellsville tournament."
The Bulldogs were last in the Top Gun championship game in 2007, when they defeated Ottawa to win their fifth tournament title.
Baldwin jumped out to a 15-2 lead after the first quarter and extended it to 27-11 by halftime. The Panthers cut the lead to five points early in the fourth quarter. However, the Bulldogs outscored the Panthers 14-5 during the next six minutes.
"I thought our first half was as well as we've played all year," Martin said. "I thought we were very good defensively and we did some good things on offense. In the third quarter, we were just really flat and played poorly defensively. We let them the back in the game, but I'm proud of how we responded and played with a lot of poise down the stretch."
Allison Howard led the team with 18 points. Ramie Burkhart chipped in 12.
Baldwin will play Spring Hill in the title game at 8 p.m. Saturday.
Scoring summary
B — 15 12 12 18 - 57
KCC — 2 9 21 10 – 42
Baldwin — Connor Twombly, 6; Allison Howard, 18; Ramie Burkhart, 12; Myranda Behrens, 8; Katie Brecheisen, 5; Kailyn Smith, 2; Taylor Brown, 2; Katie Kehl, 3.
KC Christian — Morgan Trott, 12; Kristin Tippin, 5; Kassandra Doolittle, 2; Danielle Trott, 4; Janelle Herman, 4; Lily Holbrook, 8; Elle Fields, 7.