Back-to-back
BIT

runners-up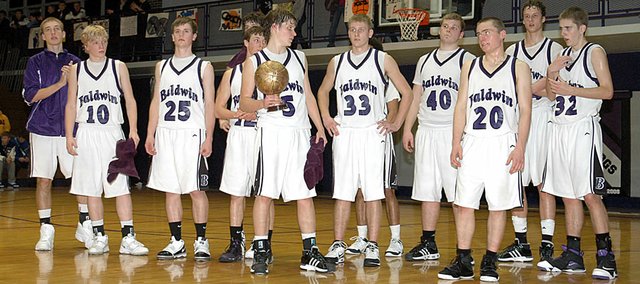 Since Eric Toot took over the Baldwin High School boys' basketball team in 2006, the Bulldogs have played in the championship contest of their home tournament every season.
The Bulldogs entered this year's Baldwin Invitational Tournament as the No. 4 seed. After back-to-back wins, they found themselves in their fourth straight BIT title game against another underdog, No. 6-seeded Bonner Springs.
The Braves escaped in their first two games with one-point victories. However, they began firing from long range Saturday evening. The Braves drained 11 three-pointers as they went on to beat the Bulldogs 62-46 in the championship game.
"We're disappointed, but I'm very proud of how we played this week," coach Toot said. "The kids gave great effort and kept executing. Unfortunately, they just have something we don't have and that's outside shooting. We came out and kind of took a chance and came out in zone, because we didn't want to get beat off the dribble. They were just on fire tonight. You hope percentages will catch up, but it sure didn't tonight."
After winning the BIT title in 2007 and 2008, the Bulldogs have finished runner-up the past two seasons. Although, they are aiming for the title, Toot said the team was still happy to place second.
"Obviously, you can't win it every year, but you want to try and give yourself a chance," he said. "We've done that for four years. We've been in the late game four years in a row and that's exciting for our program."
In their first two BIT games, Bonner Springs combined to make 11 three-pointers. On Saturday, the Braves caught fire early and made four in the first quarter as they jumped out to an early 16-2 lead.
Baldwin cut the lead to 10 points by the end of the first quarter. However, the Braves sank three more long-range shots early in the second quarter to build a 16-point lead.
"We knew they would hit some threes," Toot said. "When they hit four or five of their first six or seven, it put us in such a hole. It took us out of our game plan. When you get down 13 or 15, you have to get into an up-and-down game. Our kids did a great job of adjusting. We took some chances at the end and kept fighting."
Junior Justin Vander Tuig said the Bulldogs kept trying to rally, but Bonner Springs kept hitting the long shots.
"It's just kind of hard to stop that," Vander Tuig said. "I don't know how many guys they had that can shoot the three, but we would cut it down and they would hit another three. It's just hard to get back in the game when they do that."
The Bulldogs did close the lead to nine points at halftime, as Vander Tuig scored eight of Baldwin's 10 points during a 10-2 run. They narrowed it a bit more to seven points early in the third quarter.
Then came a pair of three-pointers before and after Baldwin baskets, which jolted the lead back to 13 points. Baldwin cut the lead down to eight in the fourth quarter, but a three-point play sealed the deal for the Braves.
"We cut it to seven one time and had a chance, but then they came down and hit a three," Toot said. "Then we were right back down double digits. That kind of took the wind out of our sails."
The Bulldogs, who are 4-7, were pleased to go 2-1 at the BIT. They picked up wins against Wellsville and Perry-Lecompton.
"We would have liked to have won the tournament, but we feel like we improved this week," Vander Tuig said. "I think we started playing better together during the tournament."
On Tuesday, the Bulldogs traveled to Osawatomie and lost 46-31. They trailed by six points at halftime, but failed to score during the third quarter.
"We lost our composure at times during the second half," Toot said. "We let the game get away from us in the third quarter with too many turnovers and missed opportunities. Our defense kept us in it, pretty much all night, even when we didn't score in the third quarter. We just never got anything going in the second half and that was pretty disappointing."
Baldwin will play at 7:30 p.m. Friday at De Soto. Baldwin lost to De Soto 51-41 at home Dec. 15. Next week BHS will host Northern Heights at 7: 30 p.m. Tuesday at home.
"Our schedule from here on out has to be one of the toughest in the state, in my opinion," Toot said. "We just have to continue to get better. If we do that, we're going to have a chance to win some games. Overall, I love their attitude right now. As long as we're working hard and trying to get better, I'll be proud of them."