Bulldogs finish runner-up in
BIT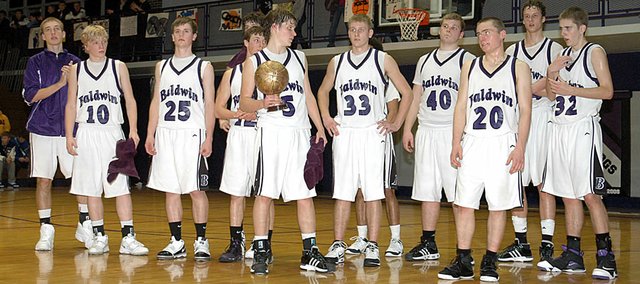 For the second straight season, the Baldwin High School boys' basketball team finished runner-up in its home tournament.
The Bulldogs were defeated by Bonner Springs by a score 62-46. Bonner Springs won its first Baldwin Invitational Tournament.
Bonner Springs sank 11 three-pointers during the contest, including seven in the first half. Baldwin kept the game close, but could never cut the lead any closer than five points after halftime.
The Braves' Juan Pichardo led all scorers with 22 points. He made four three-pointers, along with his teammate Austin Laing.
Justin Vander Tuig was the only Bulldogs to score in double figures as he had 19 points.
Baldwin has been in the BIT championship game during the past four years. The Bulldogs will play at 7:30 p.m. Tuesday at Osawatomie.