BHS

boys beat Kaws, advance to

BIT

championship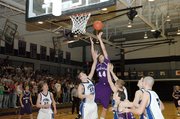 Justin Vander Tuig and Zach Wright took over in the paint during the second half as they led the Baldwin High boys' basketball team to victory at home Friday night.
The Bulldogs rallied from a six-point deficit in the second quarter to beat Perry-Lecompton 53-40 in the semifinal of the Baldwin Invitational Tournament. The pair of Baldwin post players combined for 25 points. Junior Nate Growcock also added 10 points to the victory.
"Every year we play, we want to be on the winner's side and play for a championship," BHS coach Eric Toot said. "It gives the kids something to remember. There is nothing like having a home tournament. I'm really excited for the kids, because they earned it tonight. We were terrific tonight, especially offensively. I'm so proud of how we played tonight."
Baldwin will play Bonner Springs in the BIT championship at 5:30 p.m. Saturday.
Scoring summary
B — 9 6 20 18 - 53
PL — 13 5 10 12 - 40
Baldwin — Kyle Pattrick, 3; Britton Shroeder, 3; Carson Barnes, 4; Nate Growcock, 10; Camdon Schwartz, 5; Brandon Kraus, 1; Caleb Gaylord, 2; Zach Wright, 14; Justin Vander Tuig, 11.
Perry-Lecompton — Jeremy Immenschuh, 2; Riley Shafer, 14; Logan Hurd, 1; Brad Phillips, 6; Shelby Politte, 17.