Five
BHS

wrestlers place at Bobcat Classic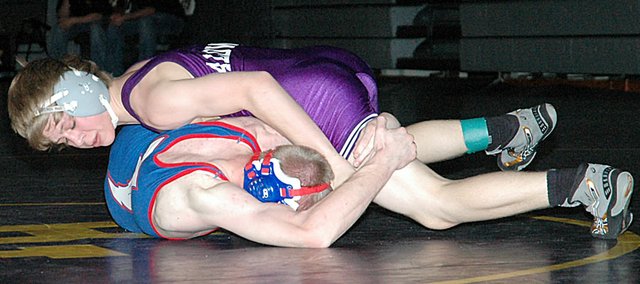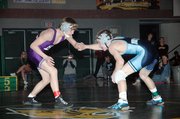 BASEHOR — Kit Harris left here Saturday evening feeling good about his team's performance at the annual 32-team wrestling tournament.
Harris' Baldwin High School wrestling squad held its own at the Bobcat Classic, which is regarded as one of the state's biggest and most competitive events.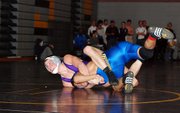 BHS placed 10th as a team and five Bulldogs finished in the top eight, which is the most ever for a BHS team in this tournament.
"It was an awesome tournament for us," Harris said. "We had a winning record as a team and we haven't ever done that at this tournament. We had five placers and this was one of our higher finishes."
Baldwin scored 89.5 points to hold on to 10th. Andale won the tournament with 185.5 points. Freshman Bryce Shoemaker knew his coach was happy after the grueling, two-day tournament.
"It was nice to finish 10th," Shoemaker said. "You could tell Kit was very happy. We are getting better every single tournament."
Shoemaker was once again Baldwin's highest placer, although he suffered his first loss of the season Saturday in the 103-pound finals. He ran into a five-time national champion from Oak Park, Mo., Brad Perkins, in the finals. Shoemaker lost 3-1, but it was by far the closest match he has ever wrestled against Perkins in four tries.
"I wrestled a little too conservative," Shoemaker said. "I think if I went out there and did my stuff, it would have been a better match. You learn more from a loss than you do from a win."
Shoemaker went 3-1 in the tournament. He pinned his way into the semifinals before facing off with the No. 1-ranked Class 6A wrestler, Goddard's Kaleb Bonilla. The first period was action packed, but neither wrestler could secure a takedown.

Shoemaker scored an escape to take a 1-0 lead in the second period. In the third, Bonilla chose down and was working hard for the tying score, but eventually Shoemaker locked up a wing, turned Bonilla to his back and pinned him.
"He wrestled awesome," Harris said of Shoemaker. "His semifinal win was a great one over a top-ranked guy. In the finals, he wrestled a five-time national champ and that's the closest he's ever come to beating that kid. He's having a great season, but still improving, too."
A pair of Bulldogs placed fifth in their respective weight classes. Senior Heath Parmley (160) and sophomore Andrew Morgan (112) both went 4-2 to place fifth. Parmley's final opponent defaulted out because of an injury, but Harris was still proud of his senior.
"Heath had an awesome tournament, too," Harris said. "He had a great 3-2 win over a Shawnee Mission East kid. His shots are great and he's really tough on bottom. He's really adding to his arsenal."
Morgan went 1-1 on Friday, with his only loss being a 6-4 decision to 6A state champion Isaac Ruiz from Junction City. Morgan turned around on Saturday and won three matches, including one-point wins over ranked wrestlers from Goddard and Santa Fe Trail.
"He beat a key Santa Fe Trail wrestler that he'll have to see a couple more times," Harris said. "He might have had his best-ever tournament in high school. He keeps improving each week."
Morgan was pleased with his finish Saturday.
"I was happy with my finish," he said. "I should have placed one spot higher, but I'll learn from that. I think it was a good meet. I still need to work on a few things before I can get to where I want to be this year."
Senior Josh Hanson (135) achieved a major goal he has had for four years by placing in the Bobcat Classic. He went 3-3 to finish sixth.
"Josh had one of the most exciting wins of the tournament," Harris said. "He was down 2-0 in the third period and with about eight seconds left, he got his turn. He got the final count with one second left on the clock to win 3-2."
Baldwin's other placer was junior Greg Shiffelbein (140). He placed seventh with a 5-2 record. He had a thrilling victory against Aaron Pucket of Bonner Springs. Trailing 2-0, Schiffelbein secured a five-count turn to earn three points with under 10 seconds to go. He locked up a 3-2 victory to advance into the placing round.
"I think I did better than I expected to do there," Schiffelbein said. "Placing there is a really big deal to me. It's a really tough tournament. It's a really good experience. There are a lot of state-ranked or state-placing guys."
Baldwin will travel to Burlington today to compete in a dual. The action begins at 5:30 p.m. On Saturday, BHS will be competing in the Holton Invitational, which starts at 9:30 a.m.
"January is a tough month," Harris said. "We have to keep working hard. I call this 'the get tough month,' because it molds you for what you want to be in February."