Bulldogs' losing skid ends with
BIT

victory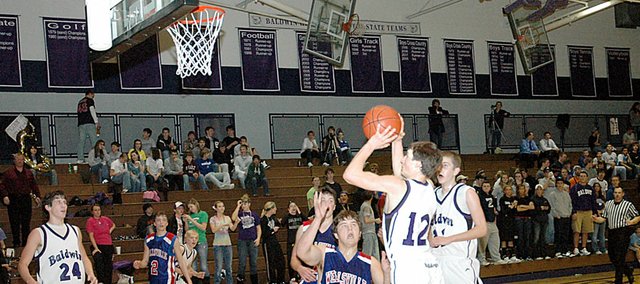 Photo Gallery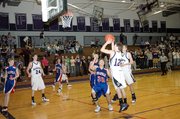 BIT first-round game: BHS vs. Wellsville
If Eric Toot's solution to a four-game losing skid is to play the first round of your home tournament, it sure worked Tuesday night.
After dropping the previous four contests, Toot's Baldwin High School boys' basketball team came out ready to play its first-round contest of the Baldwin Invitational Tournament. The No. 4- seeded Bulldogs crushed No. 5-seeded Wellsville 57-29.
"We told the kids going in and they knew it that this was our most important game of the year," coach Toot said. "We needed a win in the worst way tonight. We wanted to get the losing taste out of our mouth and make sure we are on the winning side of the BIT bracket so we can compete for a championship this week."
The Bulldogs began the season 2-1 with victories over Central Heights and Anderson County. Since then, they've lost at Burlington and at home to De Soto, Metro Academy and Paola.
However, they put those losses behind them Tuesday. BHS has been in the BIT championship game the past three years and won the tournament in 2007 and 2008.
"It's that time of the year where we are trying to turn a 180 after a slow start," senior Zach Wright said. "The BIT always gets us pumped up in front of the hometown crowd. Hopefully, we can get a fresh start to the rest of the year."
Tuesday marked the first time Wright, who transferred from Wellsville last year, has played his former team. He played for the Eagles for two seasons, but transferred to Baldwin in the fall of 2008. BHS played Wellsville in Dec. 2008, but Wright wasn't eligible to play until Jan. 2009.
"It was really nerve-racking," Wright said of playing his former team. "I was really nervous. Once we got out on the court, all of that stuff goes out the door. We are still the same buddies I played pick-up ball with all summer."
Wright's nerves didn't show too much early in the contest. He scored the first basket of the game. Then he blocked an Eagles' shot and recorded two rebounds during the first two minutes.
Baldwin jumped out to a 13-5 lead in the first quarter as six players scored baskets. Junior Justin Vander Tuig finished the quarter with six points, while junior Nate Growcock added four as BHS led 19-7. BHS led 25-14 at halftime after a low-scoring second quarter.
"The second quarter got a little ugly, because we are not used to playing that aggressive," Toot said. "We calmed down in the third quarter while still playing aggressive, but also being calm. That was the difference in the game."
The Bulldogs blew the game wide open after halftime with a 13-0 run during the middle of the third quarter. They continued to add to their lead during the final period. Sophomore Asher Hannon hit the only three-pointer of the game with 1:04 remaining in the game.
"It was an outstanding effort from the kids tonight," Toot said. "We were a lot more aggressive offensively and things that we've been working on in practice translated to the game tonight. That was great to see."
Baldwin held Wellsville to single digits in scoring every quarter, which pleased Toot. He was thrilled about this squad's defense Tuesday.
"We are trying some different things defensively with some different lineups," Toot said. "We are trying to give our younger guys a chance to go out and be intense. I thought our zone was very good tonight."
At one point, Baldwin's lineup was junior Kyle Pattrick (6-foot), freshman Caleb Gaylord (6-3), Wright (6-4), senior Camdon Schwartz (6-5) and Vander Tuig (6-9). It wasn't an accident. In fact, it might happen more in upcoming games.
"That's a lineup that I really want to start to use," Toot said. "We have trouble scoring and our three or four best scorers are our big guys. We need to try and get them all on the court at the same time. If we do a good job on that zone, we will be able to do that. It was exciting to see those guys play together tonight, so hopefully we can build on this."
Vander Tuig led the Bulldogs in scoring once again with 15 points. Schwartz added 11 points in his first game back since Dec. 15.
"Our big guys were outstanding tonight, especially on the boards," Toot said. "They were all over the place and being active. That just opened up everything else for our guards, who, probably for the first time all year, played with some confidence and were aggressive on the offensive end."
Baldwin will face No. 8-seeded Perry-Lecompton at 8:30 p.m. Friday in the BIT semifinals. The Kaws knocked off No. 1-seeded Savannah (Mo.) 46-35.
"I hadn't seen Perry and they were winless coming in, but I thought they looked good tonight," Toot said. "They are athletic, play hard and are very-well coached. It's going to be a good game for us."