BHS

girls begin 2010 with victories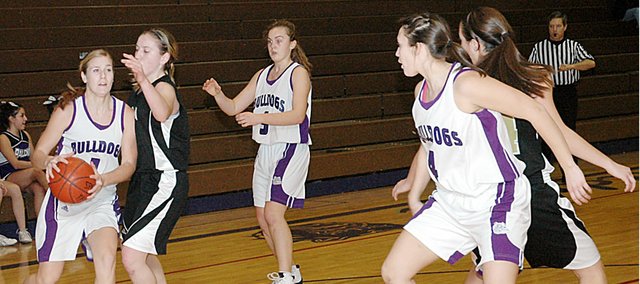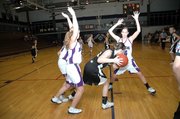 Time away from the court may have helped the Baldwin High School girls' basketball team.
BHS headed into Christmas break with a 3-3 record after a home loss to Metro Academy on Dec. 18. The Bulldogs' game at Eudora Jan. 8 was postponed to Feb. 9 because of winter weather.
So when the Bulldogs took the court Friday night, they hadn't played a game in four weeks. The absence went unnoticed as the Bulldogs beat Paola for the first time in a couple of years. They followed that up with a road victory at Osawatomie Tuesday night.
"That was a good win after four weeks off," coach Bob Martin said Friday. "The girls were very anxious to play. It was a big game for us to come back after break and win on our home floor. We wanted to get our league games off to a good start."
On Tuesday, Baldwin made quick work of Osawatomie. BHS jumped out to an 18-3 lead at the end of the first quarter. Junior Allison Howard scored six of her 12 points in the first quarter. After heading into halftime leading 29-12, Baldwin outscored the Trojans 25-8 during the third quarter.
"I thought we did some good things offensively," Martin said. "We attacked the basket really well. We are moving the ball and running well right now as a team."
The Bulldogs also controlled the final quarter as they finished off Osawatomie with a 64-24 victory. They are now 5-3 on the season. Junior Ramie Burkhart led the team with 17 points. Senior Connor Twombly added 10 points to the victory.
"It was a good victory for us," Martin said. "I thought we played very well from the beginning. We've gone to Osawatomie several times and it's been a tough game for us. I was pretty happy that we had consistent effort all night. We had a nice halftime lead, but kept building on that in the second half. We did a lot of things well tonight."
On Friday night, the Bulldogs beat Paola at home. Before Friday, the Bulldogs hadn't beaten the Panthers in several years, although they've come close in a few tries.
Baldwin turned a seven-point deficit in the second quarter into a 13-point victory. BHS won 54-41 by holding Paola to three points during the final 5:40 of the game.
"It was an exciting win, especially since it was our first league game," freshman Kailyn Smith said. "We were all really anxious and excited for the game."
Martin was pleased with his freshmen Friday. The three (Katie Kehl, Monica Howard and Smith) scored 18 points together. It was their contribution to the team and the win, not just the points, which pleased their coach.
"Kailyn has been really steady for us. I think she was a little bit more aggressive on the offensive end tonight, which is something we're looking for. She did a lot of good things for us tonight."
Baldwin's bench scored 22 of the 54 points Friday. Kehl and senior Taylor Brown each scored seven points. Junior Myranda Behrens added six.
"We got help from all of our bench tonight," Martin said. "It was really nice to see Katie step up. She has been practicing really well for us, so we felt like she could contribute for us."
Baldwin will host Saint James Academy at 7:30 tonight. The freshman squad plays at 4:30 p.m. The Thunder eliminated BHS from sub-state a year ago.
"We're looking forward to the contest," Martin said. "It should be a good challenge for us. It should give us a pretty good idea of where we are right now."
BHS will play its first round game of the Top Gun Tournament on Tuesday in Wellsville. BHS will take on Bonner Springs at 6:15 p.m.