Democratic state Sen. Tom Holland of Baldwin City may run for governor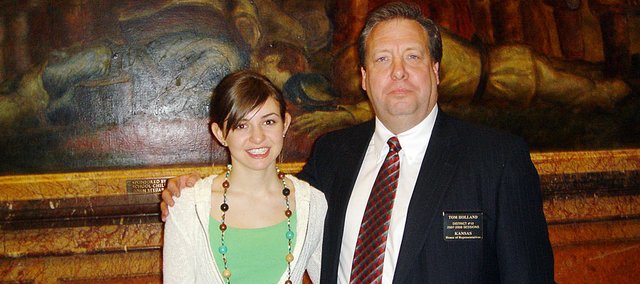 State Sen. Tom Holland, D-Baldwin City, said Wednesday that he may run for governor.
"I'm actively considering it," Holland said before heading to a Senate committee meeting.
He said he would make a decision soon.
Just 10 months from the November election, the Kansas Democratic Party is in need of a candidate to take on the presumptive Republican nominee, U.S. Sen. Sam Brownback.
Gov. Mark Parkinson, who came into office when former Gov. Kathleen Sebelius was selected to run the U.S. Department of Health and Human Services, has said he will not run for election. Kansas Democratic Party Chairman Larry Gates also considered running but took himself out of contention. Retired businessman Tom Wiggans jumped into the race with Gates' blessing, but then bowed out.
Holland said he was not running simply to be a placeholder for the Democratic Party. "If I made a decision to run, it will definitely be to win," Holland said.
Holland represents the 3rd Senatorial District, which includes part of Douglas County, all of Jefferson County and Leavenworth County, except the cities of Leavenworth and Lansing. It covers the northern third of Lawrence and the communities of Baldwin City, Basehor, Easton, Eudora, Grantville, Linwood, McLouth, Meriden, Nortonville, Oskaloosa, Ozawkie, Perry, Tonganoxie and Valley Falls.
Holland was elected to the Kansas Senate in 2008. Before that he was a member of the Kansas House.
Holland is an information technology consultant. He and his wife, Barbara, have four children.
Last year, Holland was one of the most vocal critics in the Legislature of the Kansas Technology Enterprise Corp., which was established to promote technology-based development. Legislators considered abolishing the agency, but then decided to fund it at a lower level.
Later, Holland was appointed to serve on the KTEC board.
While in the House, Holland introduced and helped pass several tax cuts for senior citizens and businesses.