BHS

girls sweep Paola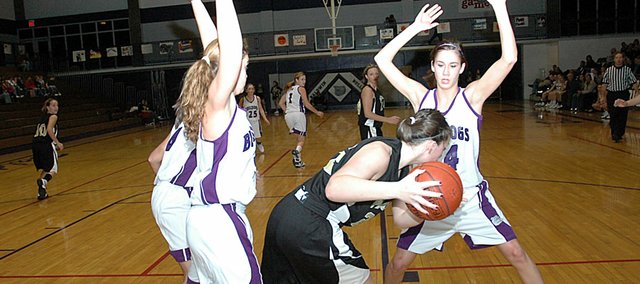 After taking four weeks off, the Baldwin High School girls' basketball team won it's opening Frontier League contest at home Friday night.
The Bulldogs beat Paola 54-41 to improve their record to 4-3. Their last game was Dec. 18.
"That was a good win after four weeks off," BHS coach Bob Martin said. "The girls were very anxious to play. It was a big game for us to come back after break and win on our home floor. We wanted to get our league games off to a good start."
Nine Bulldogs scored in the victory. Ramie Burkhart was the only one in double figures as she led with 12 points.
The BHS junior varsity and freshman teams also won Friday. The JV team won 40-30, while the freshman squad won 41-22 to sweep the Panthers.
Varsity scoring summary
Paola — 10 15 8 8 – 41
Baldwin — 13 8 18 15 – 54
Paola — MacKenzie Hallstrom, 9; Cheyenne Rankin, 3; Melanie Golubski, 2; Courtney Johnson, 13; Allison Wood, 2; Kylee Mader, 6; Annie Kessler, 4; Rachel Schmidt, 2.
Baldwin — Connor Twombly, 3; Rachael Enick, 2; Allison Howard, 6; Ramie Burkhart, 12; Myranda Behrens, 6; Kailyn Smith, 9; Taylor Brown, 7; Katie Kehl, 7; Monica Howard, 2.