First of five straight home games slips away from
BHS

boys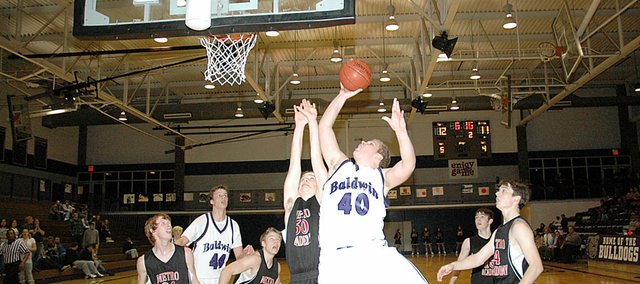 After last week's wacky schedule of school and practice, Baldwin High School boys' basketball coach Eric Toot wasn't too discouraged following Tuesday's loss to Metro Academy.
The Bulldogs' practices were limited during Christmas break because of the weather. Then they came back to school Jan. 6 and had practice. However, a snowstorm that night canceled school and practice the next two days.
Baldwin was scheduled to play at Eudora Friday, but the game was postponed to Feb. 8. BHS players were disappointed they weren't able to play Friday night.
"It's been hard, just because we've wanted to be playing games the entire time," junior Kyle Pattrick said. "We were ready to play Eudora Friday, but with the snow, we couldn't play. It's just been hard to get back into the swing of things, since we haven't been able to practice regularly."
The Bulldogs practiced Saturday and Monday. On Tuesday, the Bulldogs hosted Metro Academy, a team of home-schooled high school students in the Kansas City area.
In its first game back from Christmas break, the Bulldogs lost to Metro Academy 53-48 to fall to 2-4 on the season. Metro Academy is now 16-4.
"It's been a crazy week," Toot said. "We get snowed out and can't practice. Then we come back and have one practice. It's tough on everybody, because we were in a nice groove and building toward Friday. Then to lose Thursday and Friday was really a let down for our kids. It didn't have an impact on tonight's game, but it's hard to get back into rhythm. It's something everybody is going through."
They were happy to return to normality, but admitted they were rusty early in the contest.
"We were excited to play and ready to get back out on the court to play games," Pattrick said. "We had been practicing really hard and getting better over break so we could come out and get a win. Unfortunately, we fell a little bit short. We played hard the whole game, but just didn't make a lot of shots."
Both teams got off to slow starts Tuesday night. They each scored one basket during the first 4:30 of the game. Baldwin took a 17-11 lead early in the second quarter before Metro Academy caught fire from three-point range.
The Mavericks proceeded to sink four long-range shots during the final six minutes of the second quarter. They used those threes to make a 14-4 run to take a 25-21 lead at halftime.
"They are a very good team," Toot said. "Their guards are so athletic. We struggle against athletic guards. We want to come out and pressure and guard, but we just can't do it at times when we are playing teams a little more athletic than us. But overall, I thought we played fine defensively tonight."
Baldwin closed a nine-point Metro lead down to three at the end of the third quarter. Junior Justin Vander Tuig scored three straight baskets during the final 2:10 to help the Bulldogs.
However, Metro Academy opened the final quarter with a three pointer from junior Josh West. The Mavericks' lead stayed between five and eight points for much of the remainder of the game. They made five of six free throws in the final minute to seal the victory.
Although the Bulldogs lost, Pattrick said the team can spin the defeat into a positive learning experience.
"We were down quite a bit at the end and fought back," Pattrick said. "We never gave up. We have hardly worked on our press because we didn't think we would need it, but we needed it tonight. We didn't do it that badly, I thought."
Two Baldwin post players scored in double figures. Vander Tuig led the team with 20 points. Zach Wright added 12. Also, for the first time all season, the Bulldogs sank more than two three-pointers in a game.
"We got the ball inside tonight, which is the strength of our team," Toot said. "We'll continue to do that. It was also nice to see us hit some outside. I think we made three tonight, which is by far the most we've made in a game all season. Hopefully, that will build some confidence for some of the kids."
Despite the loss, Toot was pleased with the improvement from his team since its last game on Dec. 15.
"We've had some really good practices," Toot said. "We're better than we were before Christmas, without a doubt. At times, it didn't look like it tonight. I'm very encouraged where this team is headed. We look a lot at wins and losses, as we should because we play to win, but we've made some improvements. Some didn't show up tonight, but I think they will show up in future games. We just have to keep battling and fighting."
Tuesday's game was the first of five consecutive home games for the Bulldogs. They will host Paola at 7:30 p.m. Friday. Next week, BHS will host the Baldwin Invitational Tournament, which begins Tuesday night.
"I'm very excited to stay at home for a few games and play in front of the home crowd," Pattrick said. "We are ready for the BIT next week. We will play as hard as we can every night."