BJHS

principals Wright, Gresnick to step down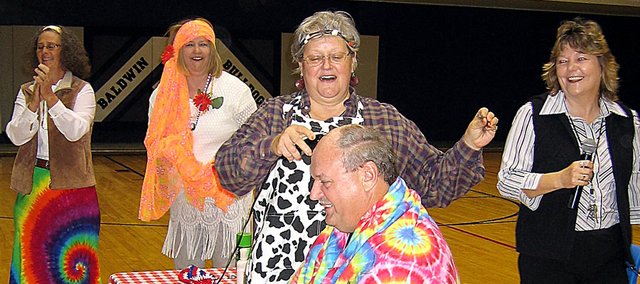 Beginning next August, Baldwin Junior High School will be under the leadership of a new administration.
On Monday night, the Baldwin School Board approved the retirements for BJHS Principal Connie Wright and Assistant Principal Joe Gresnick. That decision was approved after executive session.
"We're going to lose a lot of experience from a couple of good administrators," Supt. Paul Dorathy said. "It's going to be hard to replace that. So now we have to work very hard to replace them with very capable people. It's a loss of experience that's very hard to replace."
Wright and Gresnick have worked together at BJHS since the 2001-2002 school year. Although Gresnick has nearly retired the last two years, Wright said her decision wasn't a hasty one.
"I've thought about it for a long time," she said. "I had talked with my staff last spring about it, so it is not a new decision. I think there comes a time when people are ready for a change and I'm ready for a change."
On Tuesday, Wright said she is retiring from the district, but might seek other employment. She doesn't know where or when she might work again, but she'll never forget her time at BJHS.
"It has been fantastic being the principal at Baldwin Junior High," Wright said. "This is an excellent community with excellent kids, parents and staff. I've had a great time here and I leave with very fond memories.
It was not an easy decision for me to decide to make a change," she said. "There have been some life-changing events in my family and I came to the realization that change is a good thing. I just want to try some different things."
On the other hand, Gresnick's decision was a much easier one. Two years ago, the school board approved his retirement in February 2008, but it was rescinded in June 2008. He again considered retirement last year, but came back for one last finale.
"I knew last year when I went through this last contract with the school district that this was going to be my last year here," Gresnick said. "We knew it was going to happen. It's nothing really earth-shaking to anybody. This year has been a little different knowing I'm going to retire and this is it. The kids have been good and things are going pretty well. I can't complain."
Gresnick began his stint in the district as principal at Baldwin High School in the fall of 1989. After the 2000-2001 school year, he was part of a principal shuffle at BHS and BJHS. He started his current position in the fall 2001.
He has since enjoyed his time at BJHS, but he will remember all of the great times he had at BHS, too.
"It's been great," Gresnick said. "It's been a lot of fun. The kids have been great over the years. The teachers, faculty and staff have all gotten along really well. We've had some successes, built some buildings and made some standards of excellence. I've had a good time here."
While he isn't sure what his future holds, Gresnick is pretty sure he will be cooking for his wife and enjoying being a grandfather after he retires June 30.
"I may sit back and do some of that," Gresnick said. "I may even do some cooking for my wife, because she will still be working. So, she'll expect some meals on the table when she gets home. It will be different, but I'll enjoy it."
Wright and Gresnick combine for 37 years of administration in the Baldwin School District. Wright was hired as the BJHS principal in 1994. This year is their ninth year working together at BJHS.
"We have worked together for a long time," said Wright. "Of course, I always worry that we are both leaving at the same time. I want to make sure that we leave stability within our school and that people are comfortable with what's going on. I will work really hard with whoever is coming in to help them as much as possible, if they need any help. I know that great things are going to continue happening for the Baldwin School District."
Dorathy said the search for a new BJHS principal will begin soon. He said the district will begin advertising the position later this week. However, he wasn't sure if Gresnick's position will be replaced.
"I think right now we will take some time and analyze what we are going to do with those positions," Dorathy said. "We've most definitely got to have a principal there. The other position is something I think we are going to look at. As far as whether there is a hire there or not, we need to speak with staff and the school and have some discussion on that. At this time, we have not made a decision on that."
There were three other retirements approved Monday. They were Marcia O'Neil (Baldwin Elementary School Primary Center kindergarten teacher), Jane Miller (Baldwin Elementary School Intermediate Center and BESPC librarian) and Kathy Miller (BJHS librarian).