Baker University freshman meets life-saving blood donors
'Meeting her makes all of those years of donations worthwhile'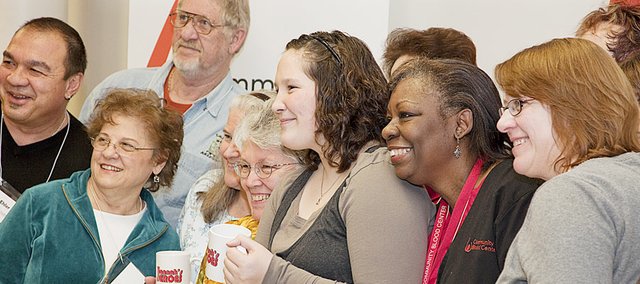 Kansas City, Mo. — Eighty-three-year-old John Reber braved the bitter cold Thursday morning and drove on snow-packed roads from his longtime residence in Topeka to the Community Blood Center in Kansas City.
He didn't want to miss an opportunity of his lifetime.
Reber began donating blood during the Korean War because there was a severe shortage. His first donation was April 13, 1953, and he still carries his first donor card in his wallet. Since then, he has donated 253 times and given at least 62 gallons.
Until Thursday, he had never met a recipient of his donation.
"I wasn't going to miss it for anything," Reber said. "I was going to be there — God willing."
He was among 13 blood donors who met 18-year-old Hannah Miller, a freshman at Baker University. She received their blood during her battle with lymphoma.
The donors got the chance to shake her hand, give her a hug and hear her story.
At age 13, Miller, of Gardner, won an award in Olympic-style weightlifting, and a month later was diagnosed with Stage 4 Burkitt's lymphoma, an aggressive form of cancer.
"It was in my liver, my kidneys, my bone marrow — everywhere," Miller said. "I had so many blood transfusions that I lost count."
In two years, Miller endured 300 days in Children's Mercy Hospital, 11 surgeries, 81 days of chemotherapy, 26 spinal taps and much more. She also received at least 67 units of blood cells, 106 units of blood platelets and 16 bags of stem cells.
Hannah's mother, DeeJo Miller, said her daughter was given less than a 20 percent chance of survival after a relapse.
"At one point, she had an infection and needed surgery every other day for two weeks," she said.
There were times that Hannah Miller couldn't get out of bed, and that's when they knew she needed blood.
"We would go into the clinic and she would get blood, and you could just see the pink rising through her body and the energy coming back and the sparkle in her eyes," DeeJo Miller said. "You could see it was working."
Since a stem cell transplant Nov. 29, 2005, Hannah has been on the road to recovery.
She has frequent nausea and developed an immune deficiency that requires a two-hour transfusion once a week.
But, she's not one to complain.
"So far, so good," she said with a big smile.
Hannah Miller was grateful for the opportunity to meet and personally thank 13 of the approximately 140 blood donors who helped save her life.
The donors came from as far away as Topeka and St. Joseph, Mo. Their ages ranged across seven decades, and they represented an assortment of occupations: architect, homemaker, electrical worker, retiree, small-business owner.
"It was amazing," Hannah Miller said of the experience. "I am so happy that they came out to see me, so I can put a face with the donation. I am so thankful that I can't say enough. I wish I could do more."
The donors said seeing her healthy again was enough.
"Meeting her makes all of those years of donations worthwhile," Reber said, teary-eyed. "It was just a real joy."
Betty Klinedinst, of Leavenworth, described the first-time experience of meeting her blood recipient and giving her a big hug as "awesome."
She has been donating blood for 32 years and has given 10 gallons.
"A little stick is well worth it," she said.