High-flying sledding fun
Winter weather isn't bad for everyone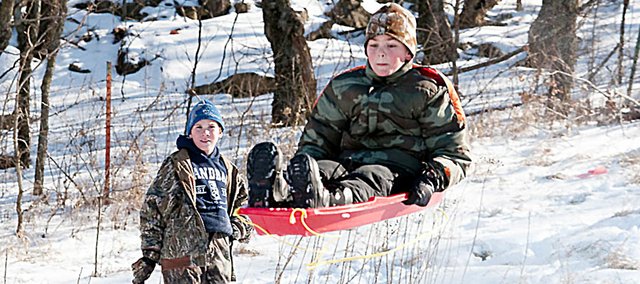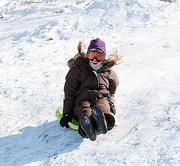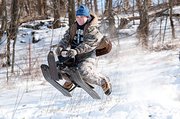 Whether most people like it or not, it's been a cold, snowy start to winter. Some people are just choosing to enjoy it, while others dread the weather.
For most people, the inches and inches of snowfall during the past two weeks have created problems, especially with travel. Slick road conditions combined with blustery winds and falling snow nearly every other day have residents dreaming of summer.
"It's been difficult," said Kit Harris, Baldwin High School teacher. "As far as the roads, you just have to drive carefully and safely. It seems like the road crews have been doing a good job of clearing the roads. We've been outside almost every day. We made plans to build a big snowman, but the snow wasn't sticking, so we went sledding instead. It's just been good to get outside, instead of being cramped up inside our house."
Like Harris, other residents are enjoying the weather. In fact, many of the younger folks in the area love the above-average snowfall. They've been on Christmas break from school, which has given them the chance to frolic outside and enjoy being young.
"It's really fun to play in this snow, but it's really hard to make snow balls," said Riese Wismer, an 11-year-old fifth grader at Baldwin Elementary School Intermediate Center. "It's also been fun to go sledding during our break. I love going to Signal Oak and going sledding. It's so much fun."
The local hotspot for sledding is Signal Oak hill, located about 1.5 miles north of Baldwin City on Douglas County Road E. 1750 about a half mile north of state lake road, N. 400 Road.
It's been an area favorite for decades as it offers sledders a large hill with some steep parts. It also is slightly bumpy in sections, which adds to the thrill of the ride.
"I haven't been out there recently," Harris said. "I remember in high school it was a bit wild, but it was popular."
Wismer traveled to Signal Oak with friends and family on Dec. 31. Some older boys built a ramp in the middle of the hill, which was enjoyed by everyone that day.
"It was very fun," Wismer said. "It was hard to land though. Sometimes you hit the ground hard, but it was still fun."
Wismer's mother, Kathy Wismer, said that was her first time at Signal Oak. She enjoyed the hill, but let the children play while she snapped photographs.
"It was cold that day, but it didn't seem too bad when we were outside playing around in the snow," K. Wismer said. "I walked down there and I walked back and it was fun. As long as you're bundled up, it's not too awful.
"The ground was slick, especially walking back up the hill," she said. "It was icy enough that there wasn't a whole lot of traction. That made for good sledding conditions though."
While Signal Oak might be the most popular spot for sledding, a new hotspot is the hill to the west of BESIC. During the last few years, it's been busy with younger children and parents.
Harris took his children there last week. They enjoyed the smaller hill and the loads of snow on the ground.
"This is the first time my kids have all gotten into that," Harris said. "We went over there a few times. It's been a blast. It's a little more safe than Signal Oak and has a nice gradual hill at the end. It's definitely been popular for all ages. It's a fun community thing."
On Wednesday, Harris went back to teaching while the Baldwin School District students went back to class. Although temperatures are expected to jump into the 30s next week, most people are sure there will be more snow this winter. Most adults would agree there's been enough for a while, but not the children.
"I want it to keep snowing," R. Wismer said. "I'm a winter person and I love to go sledding. It would also be fun to have snow days from school."