City crews lauded for snow-removal efforts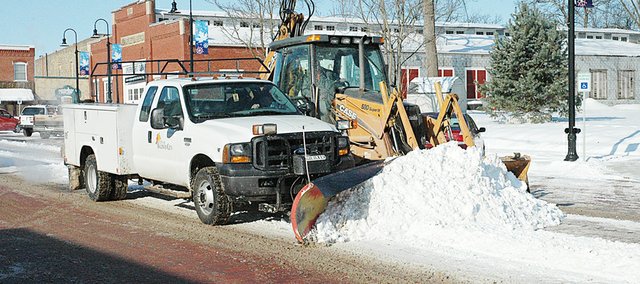 No one is happy with the continued bitter cold and snow, but think about the people who work in it – on Christmas Eve and Christmas Day.
That's the various road crews, who have been stacking up the overtime during the recent spate of nasty winter weather. The Baldwin City Council took note of that at Monday's meeting, praising the city crews for keeping the streets open.
"You guys did a heck of a job," Council Member Tom Farmer said to Bill Winegar, public works director, who heads the street crew and has spent plenty of time himself pushing snow.
The council also wanted to know how the snow-removal budget was holding up with the workout and more expected Wednesday and today.
"I think we're fine," said City Administrator Jeff Dingman. "For better or worse, we're crossing from one budget to another."
Most of the snow fell during the 2009 budget time frame, but Saturday's 2 inches of snow were removed with money from the 2010 budget.
Dingman also pointed out that the state has declared numerous counties, including Douglas County, as disaster areas as a result of the weather, most notably the Christmas Eve/Day blizzard. Those costs could be paid for by the state.
"We're being told to keep track of our overtime and costs because of the disaster declaration," he said.
That was about the highlight of the meeting as the agenda was bare. The council did approve on first reading three ordinances, which will be voted on at the next meeting. They included two ordinances establishing regulations for truck traffic. There wasn't much discussion on that, but Council President Ted Brecheisen, Jr., said he was withholding comment for now.
Brecheisen presided over the meeting in the absence of Mayor Ken Wagner, who was out of town and missed his first council meeting since his election as mayor in the spring.
The council did debate the other ordinance, which will establish regulations for parking in an alley that goes into the mobile home park south of Baldwin Junior High School. Parking is not allowed in alleys and the fire department had trouble responding to a call at the park because of the parking.
"This item was brought forward to the health and safety committee specifically by the fire chief," said Dingman.
The regulations would prohibit parking on one side of the alley to allow fire trucks to get through.