Christmas tree recycling is still underway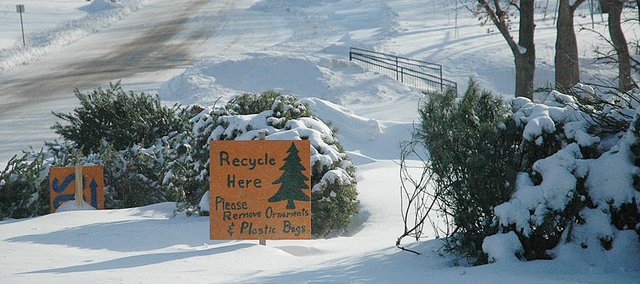 With Christmas and New Year in the rearview mirror, it's time once again to recycle Christmas trees into mulch. Roger Boyd, president of the Baldwin Tree Board, answers some questions about the process.
Q. Why should I recycle my Christmas tree?
A. It could be argued that putting your tree at the curb will ensure that the carbon in that tree will not see the light of day within your lifetime. It will go to the landfill and be sealed into that landfill like all the rest of your refuse and won't decompose for decades, perhaps centuries.
Q. Are there any more reasons not to send it to the landfill?
A. On the other hand, it must still be hauled to the landfill and that does release carbon from the truck's engine. Those trees are very bulky and are not compacted much by the truck so they will fill the truck up much faster than common garbage.
Q. With the landfill not a good option, what can I do with my Christmas tree?
A. Here are four things you can do with that tree, once it is un-decorated: 1) throw it out at the curb for it to be hauled off to the landfill (dumb idea); 2) start a brush pile in your back yard or add to a brush pile for wildlife cover; 3) tie it to a concrete block or two and sink it in a private pond for fish cover (don't do this at Douglas County State Fishing Lake as it would be considered as littering); 4) haul it to one of the two recycle areas that the city has.
Q. Two recycle areas? There's only been one in the past at the municipal swimming pool. Where's the other one?
A. As in the past, there is the swimming pool parking area and new this year is the southeast corner of the Baldwin City Market parking lot.
Q. What happens then and why should I do it?
A. Do that by Jan. 15 and the city work crew will mulch it. The Tree Board and the City of Baldwin are suggesting that you do the last option. With this option it is not taking up space in a landfill and will be returned to the soil to serve a purpose and eventually will provide nutrients for other plants to grow. The mulch will be available at the swimming pool parking for anyone to take.