Here we go again: The blizzard is here in Douglas County; school is canceled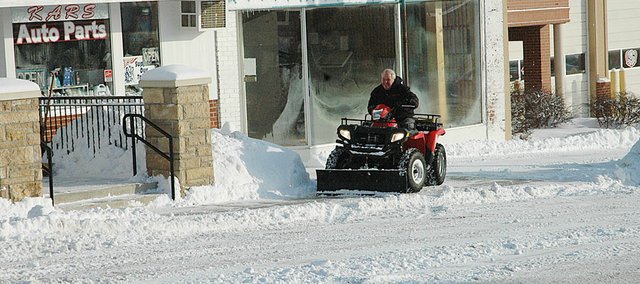 6 p.m.
Roads were mostly good for the commute home, but drifting snow continues to be a problem.
U.S. Highway 56 and County Road 1055 were both semi-snow packed, but there were areas where drifting snow was a problem and will likely continue to be until winds subside.
Even Baldwin Hill, one of the most treacherous stretches of 1055, was no problem -- itself. On the south side of Baldwin Hill is an area that is a bad drifting snow area.
4 p.m.
Supt. Paul Dorathy just announced there will be no school Friday in the Baldwin School District.
"We are going to be closed tomorrow," said Dorathy, "(because of) temperatures and wind chill and the fact it keeps blowing the roads closed."
Although U.S. Highway 56 continues to be snow packed in Baldwin City, it's clear at both the west and east sides of town.
Here's the latest road condition information for Douglas County's highways:
U.S. Highways 59, 56 and 40 are all classified as having "drifting snow." Kansas Highway 32 just east of the Douglas County line is in similar condition.
Kansas Highway 10, U.S. Highway 24 and the Kansas Turnpike are all classified as "completely snowpacked."
1:45 p.m.
Sunshine and sand have come to the aid of motorists as the roads are getting increasingly better.
In fact, the bricks are showing on High Street with only patchy slush left. Other roads aren't that good, including U.S. Highway 56 which continues to be snow packed.
8:55 a.m.
Roads in and around Baldwin City are snow packed, but driveable, as crews continue to work on them.
U.S. Highway 56, County Road 1055 and the main streets in Baldwin City were all in about the same shape, with a slight edge to the city streets. All the roads had been sanded and with the sun out, there may be some improvement soon.
7:30 a.m.
The National Weather Service has shuffled our watches and warnings overnight.
We are no longer under a winter storm warning or wind chill watch. Instead, the weather service has upgraded us to a wind chill warning beginning this afternoon and downgraded us to a winter storm advisory.
According to the weather service, sustained winds of 20 to 30 mph are likely today, with gusts to 35 mph. Windchills of -15 to -35 are expected today through Saturday. Outdoor activity is strongly discouraged while the wind chill warning is in effect, which is until noon Saturday.
The weather service also cautions that blowing snow may make some roads impassable, including some that had already been cleared.
9:30 p.m.
While the wind is continuing, the snow has backed off around Baldwin City as of around 9:30 p.m. The Baldwin School District will not have school Thursday. That was announced around 4 p.m. Baker University also canceled classes for Thursday, which rarely happens.
8:35 p.m.
The wind has started to blow and blizzard conditions are here in Douglas County, as expected. Snow also apparently continues to fall, but it's hard to tell the difference.
For those of you in rural areas, drive your driveways/roads. The drifting has started, much like Christmas Eve/Day. Increased blizzard conditions are expected. It's here. Again. Deal with it.
7:24 p.m.
Road conditions continue to deteriorate in Douglas County.
The Kansas Department of Transportation declares all roads in Douglas County as completely snowpacked. Local crews have done some plowing and will continue to treat roads through the night.
6News Chief Meteorologist Matt Elwell said snow will end before rush hour on Thursday, but roads could still be slick. Elwell said the biggest concern would be strong winds whipping up the snow and limiting visibility on the roads.
7:10 p.m.
Sure enough, as forecast the snow intensified Wednesday night. Another 1 to 2 inches have fallen since 5:30. So far, the winds have not picked up to bring blizzard conditions, but that is expected, too.
Road conditions are continuing to deteriorate, so leave plenty of time to travel if you have to travel. If you don't have to travel, don't. That's likely the good strategy for the next 24 hours ... or more.
5:30 p.m.
Both city and county crews were hard at work again clearing roads around 5 p.m. Wednesday and it was working ... so far. Still, the Baldwin School District will not have school Thursday. That was announced around 4 p.m.
As of around 5 p.m., U.S. Highway 56, County Road 1055 and city streets were all in about the same shape -- snow packed, but still passable. That included Baldwin Hill, one of the most treacherous areas on 1055. A county snow plow went up Baldwin Hill about 5 and the downhill stretch was fine. How long that will last is anyone's guess.
Around 2 inches, pushing 3, had fallen by around 5. It was continuing and was expected to intensify as the evening wears on. So far, wind has not been a factor. However, that is expected to change-- drastically -- later tonight and blizzard conditions are likely.
Temperatures? Brutal, too, especially tonight and Thursday. Wind chills are expected in the negative range.
3:59 p.m.
The National Weather Service has issued a Wind Chill Warning for Douglas County and surrounding areas, including Jefferson County, effective Thursday evening through Saturday morning. Snowfall is expected to end and be replaced by dangerously cold wind chills. The Winter Storm Warning remains in effect until 6 p.m. Thursday.
3:51 p.m.
The Baldwin School District just informed people with children in school that there will be no school Thursday because of the weather conditions.
3:03 p.m.
Commuters on the roads from Topeka and Kansas City report slick conditions on the Kansas Turnpike.
One driver from Topeka reported seeing a tractor-trailer cross all three lanes of traffic on the Kansas Turnpike before landing in a ditch.
The latest information from the Kansas Turnpike now lists all roads in Douglas County except the Kansas Turnpike as completely snowpacked. The Turnpike is still listed as partly snowpacked.
2:27 p.m.
According to the Kansas Department of Transportation, roads in Douglas County are partly snowpacked.
2:15 p.m.
City crews are sanding the streets of Baldwin City as snow continues to fall. So far, it is working to keep the streets passable.
The Baldwin City Volunteer Fire Department gave them a good test while responding to a call at Hancuff Place. It was a false alarm.
1:15 p.m.
Snow moved into the area around noon on Wednesday.
Snow had been falling all around Baldwin City for several hours before it began falling in Baldwin City.
The National Weather Service is predicting 1-3 inches of snowfall in Baldwin City today, and another 1-3 inches of snowfall in Baldwin City tonight.
The forecast has also prompted the first cancellation. The Lawrence-Douglas County Health Department H1N1 flu shot clinic scheduled for Thursday at Baldwin High School has been canceled.
Stay with baldwincity.com for updated and the latest closing information.
7:30 a.m.
The winter storm warning issued by the National Weather Service goes into effect at 6 a.m. today for Douglas County and other eastern Kansas counties. Snow estimates call for as much as 5 inches, with a range from 2 to 5. Temperatures will be hanging around in the mid-teens, though winds will make it feel colder.
Baldwin City crews were continuing with snow removal from the previous snows in anticipation of more snow to fall. As of 8 a.m. Wednesday morning, roads in and around Baldwin City were clear.
The Signal will update this story as the day develops and more information is available.