BHS

state wrestling update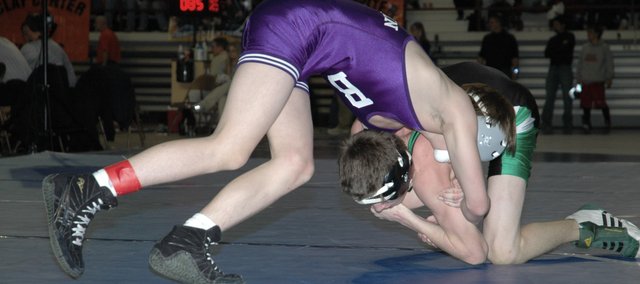 SALINA — After one day of competition, six Baldwin High School wrestlers are still alive here in the Class 4A state tournament.
All six Bulldogs will wrestle today, beginning with the second round of the consolation bracket, which begins at 9 a.m.
Leading the way for the Bulldogs is freshman Bryce Shoemaker. He won all three matches today en route to advancing to the 103-pound championship finals.
Shoemaker defeated Cody Prince (Mulvane) by fall in his opening match. His second match of the day almost sent him into the consolation bracket.
Shoemaker battled Scott City's Clay Mulligan to a 0-0 tie after three periods. Neither scored an escape point, but Mulligan came very close to scoring a reversal at the end of the third period to win.
However, the match went into overtime and Shoemaker scored a takedown early in the period to earn the victory.
"That was a hard match," Shoemaker said. "I had some butterflies in my stomach before the match."
Shoemaker's semifinal match wasn't as close. He beat Jace Roy (Prairie View) 8-0 to earn a spot in the finals. But he isn't satisfied just yet.
"I have one more match to finish my season," Shoemaker said. "I'm excited, because people were picking Clay Mulligan to beat me and go on to the state finals. I want that state championship."
The championship finals will start later today. They are scheduled to start 45 minutes after the consolation finals, which begin at 2:30 p.m.
Baldwin had one other wrestler in the semifinals Friday. Senior Josh Hanson won his first two matches in the 135-pound weight class to reach the semifinals.
He beat Landon Singular (Clay Center) and Patrick Weaver (Hugoton) to start Friday's tournament.
Then Hanson was beat by Andale's Colton Eck. Hanson has already earned himself a spot in the top six, so this will be his first time to place at the state meet in three tries. He will compete in the consolation semifinals, which begin at 12:15 p.m.
The only other Bulldog to win his opening match was junior Greg Schiffelbein (140). He defeated Garrett Emond (Augusta) 4-0 to win his first-ever state tournament match. Schiffelbein then lost his second match to Tyler Anderson (Clay Center), who is now in the 140 finals. Schiffelbein will wrestle Alex Champlin (Concordia) in the first round, which starts at 9 a.m.
BHS sophomore Andrew Morgan (112), junior Colby Soden (125) and senior Heath Parmley (171) lost their first matches, but won their first-round consolation matches. They will each wrestle in the first round today and keep advancing, if they win. Two victories by Morgan, Soden, Schiffelbein or Parmley will earn them a spot on the awards stand and a state medal.
Junior Will Von Bargen (152) lost both of his matches to end his season at his first-ever state tournament.