Turnovers doom Bulldogs as they drop sixth straight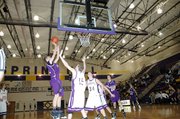 SPRING HILL — A pair of fourth quarter three-pointers ended Baldwin High School's boys' basketball team's chances of making a comeback here Friday night.
Leading 44-38, Spring Hill sank back-to-back threes to build a 12-point lead with 5:30 remaining in the contest. The Broncos went on to win 59-46.
"It was a tough loss," senior Camdon Schwartz said. "It would have been nice to finally win another one, because we started playing better again. They just hit some threes that built their lead up to 12 and that kind of shot down our hope at the end of the game."
Baldwin (6-13) has now dropped six games in a row as it prepares for its regular season final tonight at home against Ottawa. The final Frontier League contest will start at 7:30 p.m.
"They are one of the top three teams in the state," coach Eric Toot said (of the Cyclones). "We are going to see pressure, probably worse than we did tonight. Right now we are just trying to play faster than what we're capable of playing."
On Friday, the Bulldogs were victims of the Broncos' defensive pressure. The Bulldogs committed 25 turnovers in the loss. Toot said turnovers have been a problem all season.
"We just turned the ball over way too much," he said. "We struggled most of the year with pressure and it's kind of disappointing that we haven't corrected that yet. When we didn't turn the ball over, we did some really good things. We played pretty good offensively on the possessions where we were able to take care of the ball."
Schwartz said the team tried to play at a faster pace, but that plan backfired.
"Coach really emphasized picking up the tempo a bit during the week," Schwartz said. "We were kind of slowing down during games. We are all fast enough and in good enough shape where we can get up and down the court for fast breaks and layups. We did that a little bit Friday, but we turned the ball over a lot, too."
Despite the high number of turnovers, the Bulldogs were still in the game for most of the contest. They led 11-7 after six minutes of action, but turned the ball over and missed a few shots during the next two minutes, which led to a 9-0 Spring Hill run.
The Broncos maintained their lead for the rest of the game, but Baldwin kept it within single digits until the fourth quarter. BHS started a small comeback until the Broncos buried the pair of three-pointers, which put the game on ice.
"We just can't afford to let teams have those chances," Toot said. "Our inability to score just makes all of our other mistakes that much more glaring. When you can shoot the ball, it covers up your mistakes."
The Bulldogs start their Class 4A sub-state tournament next week. They will be the No. 7 seed and will play at Kansas City Sumner Academy, who's record is 16-3.
"Obviously, we're going to be playing one of the better teams in the sub-state," Schwartz said Friday. "We'll still go out, play hard and maybe pull off an upset. It's always possible."