Seven state-bound Bulldogs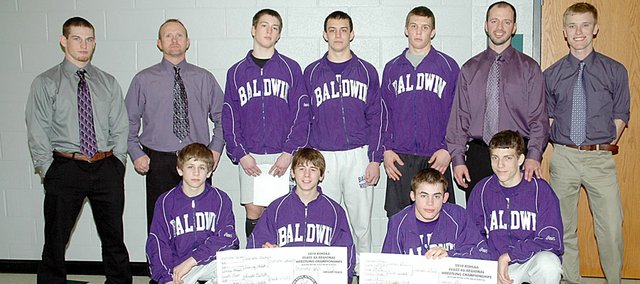 DE SOTO — After competing short-handed at the Frontier League meet last week, the Baldwin High School wrestling squad regrouped and entered the Class 4A regional tournament here Friday, motivated and with high ambitions.
After the two-day tournament was complete, the Bulldogs had finished third as a team, with 148 points. Saint James won the team title by edging out Eudora by a score of 158 to 157.5. Louisburg placed fourth with 136.5 points.
"It was a really balanced regional," coach Kit Harris said. "I told the team it was going to be a four-team race for the title and we could be right in there with them if we wrestled well. Everybody had some great moments and competed well."
Harris and senior Josh Hanson both said the Bulldogs were aiming at winning the regional championship and were disappointed to finish third.
"We're not too happy with third," Hanson said. "We'd rather be bringing home a trophy, but we'll take it, I guess."
BHS qualified seven wrestlers to the state tournament. That's only one short of the school record of eight set in 1975 and 2007. Heading into the weekend, the Bulldogs' coach thought that number could have been higher or lower.
"I came in thinking we could have between three and 10 qualifiers," Harris said. "Coming out with seven is definitely something to be happy about. We are not an overly talented team, so we have to grind out wins with intelligence and toughness and that's exactly what we did today."
Of those seven, only two have experience at the state tournament. Hanson, who competes at 135 pounds, is now a three-time qualifier after trips to Salina in 2007 and 2009.
"I'm maybe more excited this year, because this is the closest team we've ever had and we have a lot of qualifiers," Hanson said. "It's exciting."
The other returnee is sophomore Andrew Morgan, who qualified a year ago. Morgan (112 pounds) was a surprise at the 2009 regional tournament as he won a thrilling 12-10 match against the top seed to qualify for state. This year he pinned his opponent in 20 seconds in the consolation semifinals.
"I'm really excited to go back to state," Morgan said. "My qualifying match wasn't as exciting as last year's match, but I'm excited because I think I have a chance of actually placing this year."
Baldwin's newcomers to the state tournament will be freshman Bryce Shoemaker (103), junior Colby Soden (125), junior Greg Schiffelbein (140), junior Will Von Bargen (152) and senior Heath Parmley (171). Von Bargen and Parmley didn't compete at the Frontier League meet on Feb. 13.
"I'm stoked, because I didn't know if I was going to make it," Parmley said. "I was pretty nervous before I had my first match yesterday. It feels great. I didn't know what I was going to do if I didn't make it this year."
Out of the seven qualifiers, two were champions, one finished runner-up, three placed third and the other took fourth place. Hanson and Shoemaker won their weight classes for the second straight tournament. Both were Frontier League champs on Feb. 13.
"Right now, I'm most excited for the regional championship," Hanson said. "It really doesn't mean anything, because I still have to perform next week."
Shoemaker pinned two of his three competitors, including his finals' challenger. Those two pins gave him the school record for pins during one season at 29. He beat Matt James' record of 28 from 2006. He also broke Alan Callahan's season team points record of 299, by recording his 310th team point of the season.
"It doesn't mean a whole lot right now," Shoemaker said. "School records come and go. I'd rather have a state championship, by far. That's what I want."
Schiffelbein was Baldwin's second-place finisher. He came back from missing the league tournament to make the regional final.
"I'm really excited to qualify for state. I was just trying to do my best and whatever happens, happens, I guess. I am really happy that I was able to do so well."
Morgan, Von Bargen and Parmley each finished third in their respective weight classes. All three fought through challenges during the weekend. Morgan battled an injury, Parmley wrestled up one weight class and Von Bargen returned after missing many days of practice because of sickness.
"It feels good to be a state qualifier and to be part of the team with this many state qualifiers," Von Bargen said. "I'm excited for state."
Soden finished fourth to make his first state tournament. Soden won two matches by major decisions and the other by pin.
The Bulldogs will compete Friday and Saturday at the Bicentennial Center in Salina. The tournament begins at 9 a.m. Friday.
"I'm glad I get to coach them for another week," Harris said. "They've had great attitudes and they work hard. I told them I wouldn't trade them for any other team in the county."