City boosts recycling efforts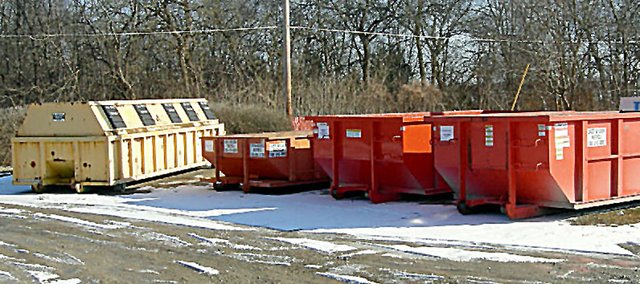 Baldwin City residents now have expanded recycling capabilities with the addition of new bins at the Allen Park location by the Midland Railway Depot.
The city has signed a new contract with 12th and Haskell Recycling of Lawrence and East Wilson Recycling of Ottawa, which is the same company. Previously, there was only a single bin that took newspaper, plastic and aluminum and it was frequently full.
"Ottawa Sanitation provided us a basic recycling collection service, even though it isn't a focus of their business," said City Administrator Jeff Dingman. "Our new arrangement with 12th and Haskell Recycling, Inc., out of Lawrence, provides a similar service, while reducing our monthly cost for the service by about 30 percent.
"The new vendor has a history of working with Baker University and will be able to provide usage data to us, which we will be able to use to help determine if, when and how the service should be expanded."
Roger Boyd has long been associated with recycling, especially at Baker, where he was a professor for decades and is now in charge of natural areas. He's excited about the changes for recycling in the city.
"Under the new contract, there will be separate bins for cardboard, plastics and ferrous metals," said Boyd. "There will be temporary bins for newspapers, magazines, office paper and aluminum. The company is currently getting a covered multi-compartment bin made for the paper and aluminum. It will be in place soon.
"There will be more frequent monitoring of the bins and therefore fewer times when the bins are full or missing," he said. "It is hoped that glass can be accepted in the future, but do not bring glass at this time."
Boyd said residents having questions about what can be accepted or which container to use can call 12th and Haskell at (785)864-3730 or East Wilson Recycling at (785)242-0007. He also offered advice on using the recycling area.
"It is important to remember that if you are going to take your materials to the site you need to put them in the correct bins, be sure to bag up plastics so they don't blow out of the bins and don't leave items outside the bins on the ground or items that can't be accepted," said Boyd. "Be aware that the bins may not be in the same locations each time, so look before you add your materials. The materials will be hauled to either Ottawa or Lawrence for processing, so please flatten cardboard boxes to reduce the volume when placing them in the bin."
Boyd has been operating the Baker recycling facility since 2004 in the alley behind Chapel and Dearborn streets west of Seventh Street. In the past year, he said, there have been 47 tons of mixed paper, newspapers, magazines, junk mail and chipboard recycled, along with another 46 tons of corrugated cardboard. Another seven tons of mixed plastics, tin cans, scrap steel and aluminum were also recycled.
"These bins will still be there, but items are sorted differently," said Boyd. "Please read the signs at both locations."
He also provided reasons why everyone should recycle.
"National studies show that 80 percent of the materials that the average family discards every week could be recycled," said Boyd. "Every time you recycle an item it saves on the need for more raw materials and reduces the need for burning fossil fuels, the main contributor to climate change. Become part of the solution. Please take a little more time to sort your trash and bring your recyclables to the expanded recycling facility at Allen Park."