BHS

anxious to play Ottawa for share of league title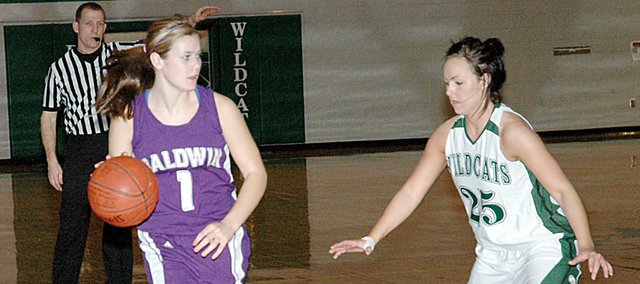 DE SOTO — Taylor Brown may never lead the Baldwin High School girls' basketball in scoring, but she is almost always good for a timely three-pointer … or two.
On Tuesday, she hit an important three to help the Bulldogs beat DeSoto here, 57-42, as they extended their winning streak to five games. Four of those games have been on the road, including the last three.
"This was a big win and it kept us in the league race," coach Bob Martin said. "Now we have a big game on Thursday. To have a three-way tie with those two other teams would be incredible."
The Bulldogs (13-6) will play host to Ottawa at 6 p.m. tonight for their senior night. It will be the Bulldogs' final regular-season contest. A Bulldogs' win would give them a tie for the Frontier League title with Ottawa and Gardner-Edgerton.
"It's really big," junior Ramie Burkhart said. "It's really exciting that we get a chance to compete for it at home."
Baldwin is in the position to tie for the league title because four of the last five games have been Frontier League contests. BHS won a revenge game Friday at Spring Hill.
The Bulldogs sank seven three-pointers and 16 of 21 foul shots as they beat the Broncos 67-56. That win avenged a 56-49 loss to the Broncos in the Top Gun Tournament. Brown, a BHS senior, drained four three-pointers in the victory.
"This was a big win, because they beat us in the Top Gun Tournament," Brown said. "We were really excited in the locker room. I'm not sure why my shots were falling. I wasn't making them in warm-ups, so I was a little concerned. Once I made one, everything was back and that gave me confidence."
Brown, who scored eight points in the game, sank only a pair of three-pointers, both of which were in the second quarter, on Tuesday. The second was timelier than the first.
De Soto cut Baldwin's 23-11 lead from 12 points to a 24-22 advantage with 1:06 left in the half. With six seconds left on the clock, senior Connor Twombly rushed the ball up the court and found an open Brown in the corner. Brown did as she's done all season and sank a three-pointer as the buzzer sounded.
"Taylor Brown hit another big shot for us," Martin said. "That was a really big shot. Katie (Brecheisen) also made a big play at the end of the third quarter to help us, too."
If not for Brown's three, De Soto would have taken the lead in the second half, as it opened the half with two straight baskets. Baldwin hung tough and maintained a two-to-five-point lead for the next four minutes.
Junior Myranda Behrens buried a three-pointer to increase Baldwin's lead back to eight points, 43-35. BHS led by 10 points, heading into the final quarter.
"We were very hot in the first quarter," Martin said. "I told the team this was going to be a game of runs and they were going to make a run at us. We got in some foul trouble in the second quarter and they made a nice run on us. But I thought we hung very tough in the second half. We made the plays we had to make."
Baldwin held De Soto to two field goals in the fourth quarter, but scored only one itself. However, BHS made eight of 10 free throws to seal the victory. Burkhart led all players, with 15 points and junior Allison Howard added 14.
"We got ourselves to the line and shot them well in the second half," Martin said. "Allison Howard shot 10 free throws tonight. She's been getting herself to the line a lot, which has been a big part of our success."
Tuesday's victory locked the Bulldogs in as the No. 2 seed in next week's Class 4A sub-state tournament. Saint James (14-5) has the top spot, but the top six seeds all have winning records.
"This is going to give us a home game for sub-state, which is nice," Martin said. "I really think our sub-state is so balanced that it doesn't matter the match-up because there are seven teams in it that are capable of winning it. Everybody is going to have a tough first-round game, so it's nice to have it at home."
Baldwin will host De Soto on Monday for its first-round game. The two teams also played in Baldwin City in December with BHS winning 51-40.
"This was an important win," Burkhart said Tuesday. "We knew that they were going to be better than last time and we needed to come out and play well. We can't be too cocky about beating them twice. We have to be ready to expect anything Monday, because they are going to want it as bad as we will."