Baker's Weaver to coach home finale tonight
All-time win leader to retire at end of season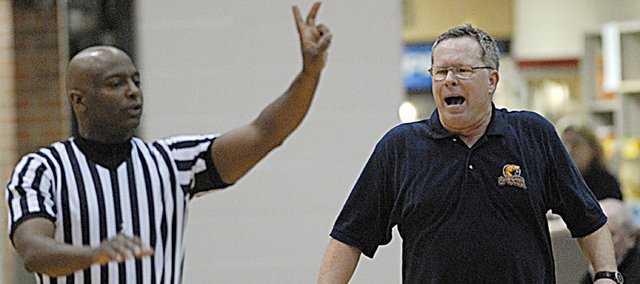 For the first time in 25 years, Baker University must find a new person to launder its basketball game jerseys.
"F3 is for the uniforms," the Baker basketball laundry man said, touching the first of two washing machines. "F2 is for color towels, white towels. You don't want bleach for the uniforms. You might get colors running together. Practice gear, freshman players take care of that. I'm the uniform specialist."
As such, he knows the best way to dry the game jerseys is to hang them on the outside of lockers and let them drip dry. He points with pride to them in the Baker locker room.
The uniform specialist doubles as the head coach at Baker. Rick Weaver is finishing up his 25th and final season. Weaver, 59, coaches his final game in the Collins Center, a gymnasium baptized a couple of games into his first season, tonight. Tipoff against heavily favored MidAmerica Nazarene is scheduled for 7:30. He finishes his coaching career Saturday at Graceland.
Always one to take his job more seriously than himself, Weaver is an upbeat, jolly sort, but it was a melancholy man who talked about giving up the chair in which he has sat since the spring of 1985. He announced in December that this would be his last season. He plans to stay at Baker for at least another year teaching classes and fundraising. Shaking trees for the program has been a big part of Weaver's job, not that he's batted 1.000.
He once arranged for the Topeka Sizzlers minor-league basketball team to play a game at Baker.
"I had to pay them $500 and feed them," Weaver said. "We had five people show up. I didn't do a real good job of promoting that one."
He said his decision had been coming for a few years, and the "timing is right," but that doesn't mean he won't miss it. First order of business: get both knees replaced to straighten out his crooked walk.
"I think Jimmy Hoffa's wedding ring might be in there," Weaver said, rubbing his right knee.
Playing professionally in the NBA and/or Europe generally aren't realistic goals for Baker players, so it should come as little surprise that when Weaver talks about them, it's usually about their other talents.
On former Wildcat D.J. Watkins: "Concert pianist."
On sophomore Connor Bechard: "You should hear him sing. Great voice."
On junior Andre Strozier: "Any KU player wants to take him on in an eating contest, he's ready for him. Six full plates at the Golden Corral."
Weaver taught his players enough basketball that many are head coaches: Dave Cash (Paola High), Carl Danzig (University of Scranton), Pat Denney (Topeka High), Kyle Detering (Eudora High) and Nick Wood (Lawrence High girls).
When Weaver hears one of them holler, "Post," during a game, he knows what play's coming, the one they all first ran playing for Weaver.
"I guess it was about the only good play we ever had," Weaver said.
Not likely. He goes for Baker win No. 357 tonight. Tickets are available at the door.