BHS

girls beat De Soto 57-42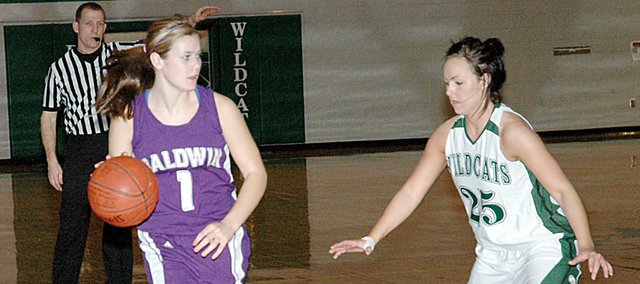 Girls basketball
Baldwin – 57, De Soto – 42
DE SOTO — Baldwin High juniors Ramie Burkhart and Allison Howard led the Bulldogs to a road victory here Tuesday night.
Burkhart led all players with 15 points as Howard added 14 to the Bulldogs' 57-42 victory over the Wildcats.
Baldwin (13-6) has beaten De Soto (9-10) twice this season, but the two Frontier League teams will play again Monday night in the first round of the Class 4A sub-state tournament. That game will be played in Baldwin City.
The Bulldogs will first play host to Ottawa on Thursday for their senior night. It will be the Bulldogs' final regular season contest. A Bulldogs' win would give them a tie for the Frontier League title with Ottawa and Gardner-Edgerton. The game will start at 6 p.m.
Score by quarter
B — 17 10 20 10 – 57
D — 6 16 15 5 – 42
Individual scoring
Baldwin — Connor Twombly, 3; Rachael Enick, 2; Allison Howard, 14; Ramie Burkhart, 15; Myranda Behrens, 3; Katie Brecheisen, 4; Kailyn Smith, 7; Taylor Brown, 8; Katie Kehl, 1.
De Soto — Tami Crow, 6; Shelbi Petty, 13; Ashley Gorman, 6; Kelsey Fisher, 3; Katie Gorman, 7; Katie Williams, 7.