Seven Bulldogs qualify for state tournament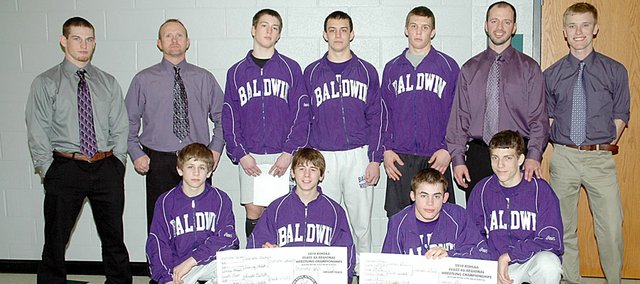 DE SOTO — After competing short-handed at the Frontier League meet last week, the Baldwin High School wrestling squad re-grouped and entered the Class 4A regional tournament here Saturday, motivated and with high ambitions.
After the two-day tournament was complete, BHS ended with seven-state qualifiers, only one short of the school record of eight set in 1975 and 2007. The Bulldogs also finished third as a team with 148 points. Saint James won the team title by edging out Eudora by a score of 158 to 157.5.
Baldwin returned home with two champions. Freshman Bryce Shoemaker (103 pounds) and senior Josh Hanson (135) won their respective weight classes. This year will be Hanson's third year to compete at the 4A state tournament in Salina.
Sophomore Andrew Morgan (112) is the only other Bulldog to make a return trip to Salina. Morgan recorded two pins and won a 7-5 match to place third.
Shoemaker is one of five BHS wrestlers to qualify for the first time. The other qualifiers are junior Colby Soden (125), junior Greg Schiffelbein (140), junior Will Von Bargen (152) and senior Heath Parmley (171). Schiffelbein, Von Bargen and Parmley didn't compete at the Frontier League meet on Feb. 13.
The state tournament will begin Friday morning at the Bicentennial Center in Salina.
There will be a full story with photos in Thursday's Signal.