Vander Tuig explodes for 30 points in Bulldogs' loss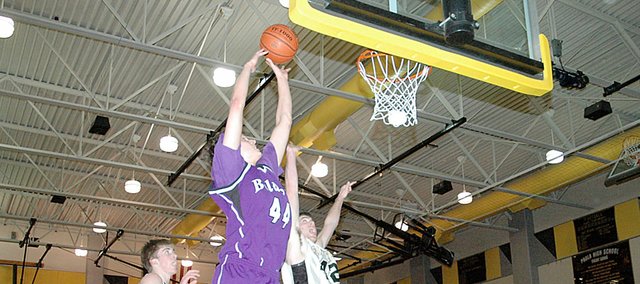 PAOLA — Justin Vander Tuig led all scorers with 30 points, but it wasn't enough as the Baldwin High School boys' basketball team fell here Tuesday night.
The 6-foot-9 junior lit up the Paola defense with shot after shot all game long. He made layups, turn-around shots and even 15-foot jumpers. Vander Tuig's 30 points were a season high and way above his average of 17 points per game. Although he is Baldwin's leading scorer by 8.5 points per contest, Vander Tuig admitted a few teams haven't focused on stopping him.
"Some teams seem to really focus on stopping it and others don't try as hard," he said. "It really depends on the team, I guess."
Vander Tuig's coach was especially proud of the effort given by the junior, especially since he wasn't at school Monday and his participation Tuesday was questionable.
"He played great tonight and our kids did a great job of getting him the basketball," Eric Toot said. "He's been sick and wasn't even sure if he was going to play tonight. He just came out and gave great effort. That says a lot about our team, not just him, but everybody. We've battled sickness and injury, but they continue to play hard. His turn was tonight and that was great to see."
Even though Vander Tuig scored 30 points Tuesday, the Bulldogs still fell short as a team. They lost to Paola for the second time this season, by a score of 64-53. Baldwin has now lost five in a row and sits at 6-12 with two regular season games remaining.
"Once again, these kids have been through a tough time with our losing streak here, but they came out and got after it tonight," Toot said. "I thought we did a lot of good things offensively. I think we did some good things when we went to our man defense. They just hit some tough shots tonight. When they did that, we responded and showed some toughness. It just wasn't enough tonight, which makes it harder."
Paola took an 11-point lead during the middle of the fourth quarter and it looked as if the game was over. Then senior Camdon Schwartz converted a three-point play and earned an assist as Vander Tuig scored a layup to cut the lead back to six points.
However, Paola dominated the final 2:50 of the game. Paola made 10 of 12 free throws and held Baldwin to two field goals.
"We were in a situation where we had to foul, so give them credit," said Toot. "They stepped up and knocked down their free throws. If a team does that, you're not going to get back in it. We tried and fouled the guys I wanted to foul, but they just made the shots to win."
Baldwin took a brief lead after halftime, but Paola once again made shots. Vander Tuig started the second half with two shots to give BHS a 28-27 lead. Then the Panthers hit the first of two three-pointers during a 54-second stretch.
Those were just two of their six three-pointers during the contest. The Panthers also made one later in the third quarter that answered one of Baldwin's threes. Sophomore Chip Kueffer made the first of his two during the middle of the quarter, but the Panthers made one 18 seconds later.
Paola made three during the first half, including two during a 8-0 run before halftime. Both were made by Paola junior Nick Wilson.
"They got hot from the three," Toot said. "I thought we were playing good defense and had hands up. We stressed that, but they just hit them. We just had to move on and take advantage of our possessions, which I thought we did. We did a lot of good things tonight offensively."
Vander Tuig also thought the Bulldogs' offense clicked Tuesday night. Although no other player scored more than six points, he said they worked well offensively.
"We were getting it inside to our post players early, which opens up our outside shooting a bit," he said. "Our guards hit a few tonight, which is really good."
The Bulldogs' offense responded quickly to a 7-0 start by Paola during the first two minutes of the game. Toot called a timeout and the Bulldogs responded.
They went on a 12-0 run, which ended with a three-pointer from junior Kyle Pattrick. Vander Tuig scored the first six points for the Bulldogs.
"These kids are resilient and they showed toughness," Toot said. "They got down 7-0 and they didn't get rattled. That says a lot about these kids. You learn a lot about yourself in situations like this and these kids need to be proud. Obviously, our record isn't very good, but they continue to play and practice hard. We're just in a tough league and play some tough teams, but just haven't gotten over the hump this season."
Toot's star junior agreed, saying the team plays hard every contest and never quits.
"Our record isn't where we want to be, but we try hard every game and practice," Vander Tuig said. "I don't ever think effort is in question for this team."
Baldwin will play at 7:30 p.m. Friday at Spring Hill.